"Harmony" has few high notes
Instead of trying to be individual dynamic personalities like the Spice Girls, Fifth Harmony is a blended group that makes sure everyone gets equal singing time. However, as they rose to fame, Camila Cabello became the center of attention, and left the group in December of 2016 to go solo—leaving fans wondering what was left for a band that was built on the foundation of five voices.
None of the other singers in the group—Lauren Jauregui, Ally Brooke, Dinah Jane Hansen and Normani Kordei—really received as much attention as Cabello. Were the remaining members of Fifth Harmony doomed to be like those other two people in Destiny's Child? Their newest album, self-titled "Fifth Harmony," has shown that the group hasn't exactly fallen apart, but they aren't better without Cabello either.
The front part of the album is filled with standard pop songs that are not even distinctive enough for top 40 radio pop. On first listen, I couldn't tell you anything specific about any of the first six tracks, excluding the single "Down" that had Gucci Mane on it (an awful feature that is not easy to forget).
While Fifth Harmony is known for their Top 40 hits, I feel like the album really hits its stride halfway through. After "Lonely Night" I found myself thinking that I really needed something else, anything different. Perfectly fitting the mood, the next song was "Don't Say You Love Me", a slow heartfelt song that does the most justice to the four singers' incredible voices. The following song is "Angel", one of the singles which was released on Aug. 10. It's a mellow R&B(ish) track that did a good job of differentiating itself from the rest.
"Messy" is another slower song, and I think it really shines during the verses. "Bridges" finally addresses the state of the group, and its lyrics are the best on the album. It's an uplifting song about forgiving and not holding grudges.
The back half of the album is all slow songs, that lets the four voices of the band get through the cheap beats and shallow lyrics. I would really love a more stripped down version of Fifth Harmony that embraces a soulful R&B-ish vibe that is just under the surface of this album. That would be a better Fifth Harmony, one that surpasses the one with Cabello, and definitely surpassing the Fifth Harmony on this album.
With this release, Fifth Harmony proved that it can make the same sort of songs without Cabello—which probably was a worry for some fans—but they should have pushed farther. They have the capability. Unfortunately, this album is forgettable.
Album: "Fifth Harmony"
Artist: Fifth Harmony
Release Date: Aug. 25
Rating: 2.5 of 5 stars.
About the Contributor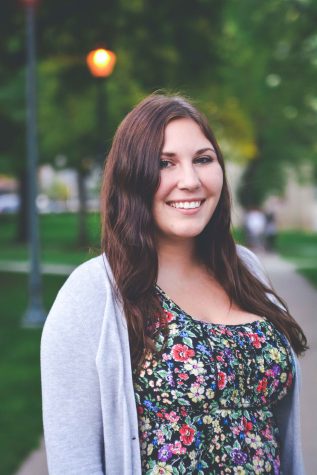 Alex Clarke, Arts & Entertainment Editor
Alex Clarke is a senior with majors in english and psychology and a minor in marketing. She also writes for Trill Mag, wrote for McClatchy newspapers for...