Hasan Minhaj, Chris D'Elia announced as spring comedians
On Saturday, March 24, University Programming Board (UPB) announced this year's spring comedians, Hasan Minhaj and Chris D'Elia, during their Spring Giveaway event.
As usual, the comedians this year have easily recognizable names. Minhaj is best known for his work on "The Daily Show," where he is a senior correspondent. He also has a critically praised comedy special on Netflix, "Homecoming King." D'Elia was the lead of the NBC sitcom "Undateable" and his most recent comedy special, "Man on Fire," can also be found on Netflix.
According to Michaela Stamper, director of On-Campus, UPB began the process of organizing the event, officially titled "Late Night with Hasan Minhaj with special guest Chris D'Elia," during the fall semester. UPB originally sent out a mass survey to the student body in the middle of fall semester, and began narrowing it down from there.
"We start with student feedback because we do our best to bring in someone that people on campus want to see," Stamper said. "We narrow that list down and then look at our spring schedule, and the Severance Hall schedule, and then the comedians' schedules to see what they have going on."
Much of the event's details were settled primarily because of scheduling, including the date, which is slightly later in the semester than it normally is.
"We knew that Hasan Minhaj was free in April, and that if we wanted him, we could only do it in April," said Stamper. "It worked out because that meant that we had enough money to bring another comedian on board. From there it was seeing who else was free."
UPB chose D'Elia not only because of scheduling, but also because of his popularity and the way his comedic style would complement Minhaj's.
The biggest change this year for the event, other than the date, is ticket sales. Unlike previous years, when students had to walk to the Severance Hall box office and buy specific seats, this year features general admission tickets localized to orchestra and balcony and an online option. Tickets went on sale on March 28 for $10, and will become available for graduate students, faculty and staff on April 4 for $20.
While the Severance Hall website did experience some difficulties with the online ticketing process, they were resolved swiftly, and most students who wanted to were able to buy their tickets on Wednesday itself.
The show will take place at Severance Hall on April 13, from 6:30 to 9:30 p.m.
Leave a Comment
About the Writer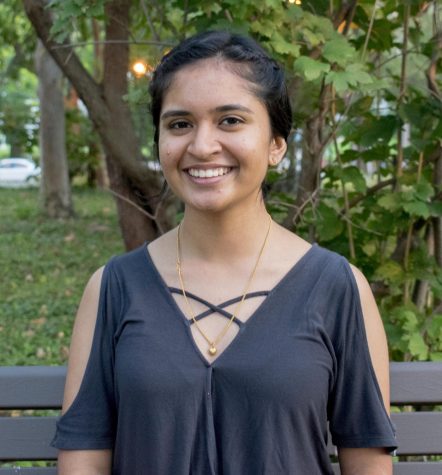 Smruthi Maganti, Arts and Entertainment Editor
Smruthi Maganti is a third-year student studying biology with a minor in public policy. After a year of copy editing, this is her first year as the A&E...