Head to toe Tove Lo
Third album Blue Lips (lady wood phase II)
Tove Lo has carved out a niche in the music industry that is uniquely her own.
Much like Lana Del Ray, some may be skeptical of her antics (singing about drugs and lots of sex), but both artists have never faltered from who they want to be. And now, what Tove Lo does, she does the best. If you don't know who she is and what she does, "Blue Lips (lady wood phase II)," Tove Lo's third album, is a good place to learn.
This album might be beloved to some and off-putting to others, but I'm not sure it would be Tove Lo if it wasn't this way. It has a unique vibe of 80's (a little disco) and synth pop, under frank and cleverly-crafted lyrics that could not care less what you think about them.
Lyrics focus on sex, drugs and all your feelings. Tove Lo talk-sings on her first single of the album, "disco tits." On "shivering gold" she casually drops lyrics about sitting on someone's face. And while these topics are commonplace for rap and hip-hop artists, Tove Lo feels a world apart in her songwriting. It's not provocative for its own sake, but honest and raw. It's a ticket to Tove Lo's world.
If you couldn't already guess, I'm in the camp of "Blue Lips" being a gem. It's dramatic and dance-inducing, and it has incredible vocal ballads over catchy electronic beats and intricate sound layers. When I was trying to single out my favorite tracks, it was nearly impossible, but made slightly easier because two of the 14 tracks are more atmospheric pieces of the album.
"disco tits" was the first single, and it was the perfect introduction (besides the intro "LIGHT BEAMS"). It's catchy and hazy, setting the tone for the rest of the album.
"Shivering gold" is at this moment of writing my favorite song off the album. I don't even know all the lyrics yet but that has not stopped me from dramatically singing along.
"Strangers" and "cycles" both have had me belting the choruses unapologetically in my car. They're honest depictions of love that are nothing in the way of cliche.
"9th of october" is a showcase of Tove Lo's storytelling coming in through her lyrics (she grew up writing poetry and short stories). Favorite lyrics from this track are: "We never had time for useless fights/ 'Bout dirty laundry/ We always had tender, long goodbyes/ Packed bags in a hurry/ Our last kiss at the bus stop/ Had I known, would've jumped off." Honestly, the entire song's lyrics are great and you should just listen to the whole thing.
"Hey you got drugs?" is the last song I'll talk about (to save you the play-by-play of the entire album). It was an unexpected lament of not wanting the night to end, but still feeling alive. It is also about drugs, but in the deepest, most emotional way I've ever heard.
"Blue Lips (lady wood phase II)" hopefully will get the credit it's due. It's easy to see these songs as catchy club songs or drug songs, but delving deeper into the production of the music and the craft of the lyrics is where the true artistry lies. Many of these songs deserve (and require) a Google search for the lyrics, because they're that good. This album feels unreservedly Tove Lo.
It might not be everyone's new favorite album, but sometimes, that's the point of music.
Album: "Blue Lips (lady wood phase II)"
Artist: Tove Lo
Release: Nov. 17
Rating: 4.5/5 stars
About the Writer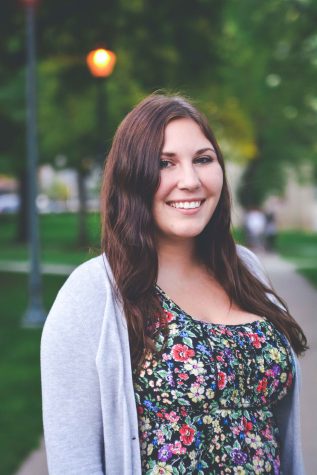 Alex Clarke, Arts & Entertainment Editor
Alex Clarke is a senior with majors in english and psychology and a minor in marketing. She also writes for Trill Mag, wrote for McClatchy newspapers for...