Historian Martha S. Jones reveals hidden history of the 19th Amendment at virtual Think Forum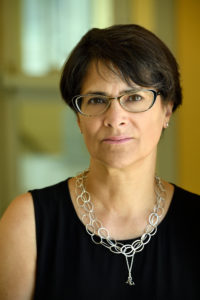 Martha S. Jones, historian, author and professor at Johns Hopkins University, spoke last Thursday evening at the Think Forum about her book "Vanguard: How Black Women Broke Barriers, Won the Vote, and Insisted on Equality for All," and the centennial of the ratification of the 19th Amendment. The lecture was formally presented as the Carl W. Ubbelohde Lecture in co-partnership with the Department of History and the Case Western Reserve University History Associates, alongside the community activism group, The League of Women Voters of Greater Cleveland.
Jones, whose work focuses primarily on how Black Americans have shaped American democracy, gave an impactful lecture on how Black women are the champions of the women's suffrage movement and why their contributions have been excluded from the historical narrative. Although the 19th Amendment was critical to the expansion of women's rights, Jones expressed to viewers that she could not "bring a spirit of celebration to the occasion" as it would diminish the discrimination faced by Black women through the exclusion of their voices in political dialogue. 
"When we appreciate what an open secret Black women's disenfranchisement was in 1920, the facts of the 19th Amendment fit only awkwardly with events that feature light shows, or period costumes or marching bands," Jones explained. She described that members of Congress, state lawmakers and suffragists themselves were all aware of the open interpretation of the 19th Amendment that allowed for the continuation of poll taxes, literacy tests and understanding tests as a strategy to prevent Black women from casting their votes. 
"Nothing in the new amendment promised to curb the intimidation and violence that threatened Black women who came out to polling places," said Jones. "Voting rights and voter suppression went hand in hand in 1920."
Jones went on to highlight how Black women overcame the silent barriers of racism at the polls through "suffrage schools." These schools were created for Black women to teach one another how to pay poll taxes and pass literacy tests. 
"Even in the face of reluctant registrars," Jones illustrated, "Black women learned how to explain the most arcane and complex provisions of the Constitution." These programs effectively armed them with the tools they needed to jump through the hoops that fearful state governments set for them.
Jones also mentioned the current Democratic vice presidential candidate, Sen. Kamala Harris, and her reference to six of the women featured in Jones' book in her August nomination speech. Harris acknowledged "the women on whose shoulders she stood that evening," including Mary Church Terrell, Ida B. Wells, Mary McLeod Bethune, Diane Nash, Fannie Lou Hamer and Constance Baker Motley. Each of the women she noted in her nomination speech were insistent in the belief that "Black women must always maintain a seat at the table of suffrage politics," as described in Jones' book. 
Jones concluded her lecture by encouraging first-time voters at CWRU and universities across the nation to vote in the 2020 presidential election. "Stay in the ground game. There's no substitute for the ground game," Jones explained. "Don't wake up on election day and think you're going to roll into the polls. You have to understand how voting happens, you have to anticipate the hurdles."
The historian also asked voters to evaluate voter suppression this election season. "If you think otherwise, insist on otherwise. If your values tell you otherwise, then insist on otherwise. The women I write about insist not only that they are citizens, but that they should be full citizens with all the rights and privileges of citizenship, including the right to vote."
She concluded her lecture by saying: "Do your homework, get in the trenches, plan your vote and then ask yourself what you think the vote really means … what do you want the vote to be?"