Student's hit-and-run raises questions on use of security alerts
Walking across the Juniper Road crosswalk, third-year Daniel Jagaselvan was blindsided. A white Toyota Camry collided with him at 2 a.m. on Sunday, March 20. As he fell to the ground, he was still trying to understand what had just happened. In those brief moments afterwards, the driver sped away from the accident—a hit and run.
"The last thing I remember was seeing the car and trying to jump out of the way," said Jagaselvan. "The next thing I remember was being on the ground."
Following the hit-and-run, an EMS drove Jagaselvan to University Hospitals of Cleveland. As the state of confusion caused by the accident persisted, he was diagnosed with a concussion.
The incident did not go unobserved. According to the incident report, "The suspect then got out of the vehicle to check on Jagaselvan, but when he saw [the witness] approaching, he got back in his vehicle and left the area." The witness reported the license plate number and description of the car and driver to Officer Sean Reilly at the scene.
In Ohio, a hit and run involving physical injury to another person can result in a felony charge. In this scenario, it would be a fifth degree felony and would carry punishments of six months to a year in jail, and fines of $2,500.
Some students are disappointed with how the Case Western Reserve University Police Department had handled the situation—specifically, the lack of a security alert.
"I find it unsettling that incidents like this hit and run are not followed up with security alerts," said Ryan Brubaker, a fraternity brother of Jagaselvan. "Even in situations where the suspect is apprehended, I feel that the student body should be informed of the incident. Campus is not a perfectly safe bubble, and I think that the students should be aware of what is going on around them."
According to a CWRU spokesperson, security alerts are only released when an incident is determined to represent a threat to the campus community or when being used to seek out further information in order to apprehend an offender.
"Because CWRU Police quickly determined that the initial incident (where the vehicle hit the pedestrian) was an accident, and that the driver had left the scene, this event did not represent an ongoing threat to the campus community," said the spokesperson.
Since the initial incident, the case has since been turned over to the Cleveland Division of Police for further investigation.
Leave a Comment
About the Writer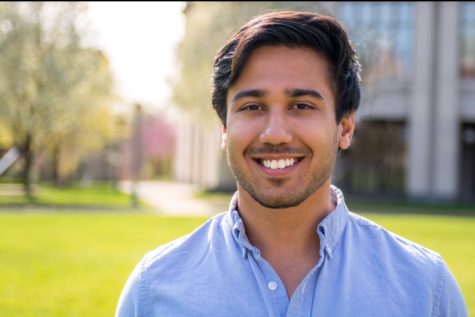 Anmol Nigam, Photography Editor
"Over-ripe sushi,
The Master
Is full of regret."

- Yosa Buson

You can contact him at axn236@case.edu.