Hockey: a real club on campus
"It's the most fun thing I'll do all week."
That's how third-year student Dan Hopkins describes the Case Western Reserve University Ice Hockey Club, of which he is also president.
The club practices twice a week, starting in September, and its season lasts until February. Astute students know that there is no hockey rink on campus. Instead, the club practices and plays its home games at the Cleveland Heights Community Center, just a 10 minute drive from the North Residential Village. Hopkins says the small arena fills up very quickly and can get quite loud.
"I've never heard a hockey rink that loud when I scored," Hopkins said when describing the reaction to a goal from the last home game two seasons ago. "I celebrated so hard, I almost fell over. It was awesome."
In Cleveland, there are very few ways to attend a hockey game, which presents a problem for hockey-loving students. The nearest NHL team, the Columbus Blue Jackets, are more than two hours away; the Cleveland Monsters, their minor league affiliate, play at Quicken Loans Arena off-campus. With six or seven home games this season (the schedule is not yet finalized), there are plenty of opportunities for CWRU students to watch hard-hitting hockey action both in person and not too far away.
Hopkins sees a "largely untapped" hockey market here on campus."A lot of people here like to watch good sports and the hockey team can provide that. I think there's a big enough hockey community here that we just don't connect with as well as we should. I think if we connected with it, that we would really grow really fast."
Hopkins is hoping to use this untapped market to grow awareness of the unknown club. "If you ask anyone on the hockey team, the one thing they hear the most from others is 'We have a hockey team?' We hear that all the time." Grinning, he added, "I think we will grow this year and I think we'll especially see an increase in growth [the year after]."
To draw in more students, the club hopes to play another game at Quicken Loans Arena, as they did two years ago. Hopkins described the experience of playing at in the large arena as his favorite memory from the past two years. He said that the arena operators played music and used the scoreboard during the game. He also added that there were a lot more spectators than expected, and that made the game even more enjoyable.  
"When more fans come," he said, "it's more fun for us and more fun for the fans."
Hopkins says it's easy to join the club, even if it's your first time playing hockey. Though most team members have played their whole lives, he describes students who had never played the sport in an organized fashion before get regular playing time by their third year on the team.
According to Hopkins, joining is simple: "If you've ever put skates on, you can play. And if you haven't, you can start."
About the Writer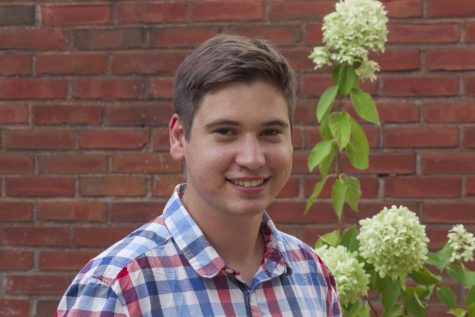 Eddie Kerekes, Executive Editor
Eddie Kerekes is in his fourth year studying chemical engineering while also pursuing a minor in German. He serves as the executive editor. Previous roles...