Happy campers at the House of Blues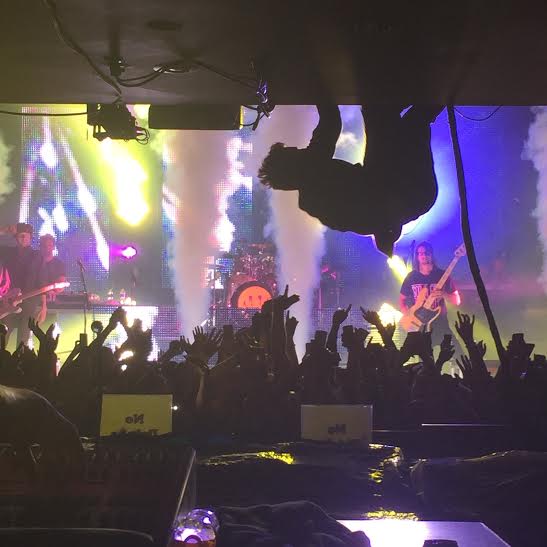 I am not much of a concert buff despite my love of music, so I had been fiercely anticipating the Hoodie Allen concert since buying tickets in January.
Despite being known for his "frat rap" vibes and appeal to teenage girls, Allen put on a surprisingly entertaining show in support of his recent album "Happy Camper." With a chill and subdued atmosphere in the downtown House of Blues Cleveland, it was the ideal show to lose my concert virginity to.
gnash, an alternative pop artist from Southern California, opened the show with a laid-back vibe and although I was unfamiliar with his music it was easy to get into. He strolled on stage with a literal cup of tea, which matched the relaxed SoCal feel of his songs and performance style. gnash performed about seven songs, including the popular duet "i hate u, i love u" (performed solo) and ended on a fast note with the up-tempo "Fuck Me Up," that got the crowd bouncing and electrified for what was to come.
About 35 minutes after gnash performed, the second opener Superduperkyle (a quirky hip-hop artist) bounced on stage in bizarre fashion. He and his hype man Superduperbrick popped on stage in the dark, swinging light sabers at one another as their song "The Force" began.
Kyle and Brick brought insane energy as they obliterated song after song with animated rap, booming bass and nerdy dance moves (including riding over the audience on a surfboard). With awkward charm perfectly encapsulated by Kyle's line "I love two things in life: sex and Super Smash Bros," they cranked the volume up about 25 notches from gnash and filled the audience with the perfect amount of hype and anticipation for the main event.
After a long 40-minute wait, the energy the openers had created was beginning to drift off. This changed in an instant as Allen's set was revealed and a blinding strobe light show began in tempo with drum beats. Allen strode on stage in an all black outfit complete with a "Happy Camper" bandana around his face. Once he began rapping he threw the bandana behind him and the bass dropped as he broke into a medley of songs from the "Happy Camper" album.
As the show progressed Allen combined incredible energy with a strong band to make each and every song memorable. He performed most songs off his new album with past hits including "All About It," and "No Interruption." Although the audience joined in for nearly every song—so much that his voice was drowned out by the audience—Allen took advantage of this excitement as he made a call to the bra-wearers of the audience to throw their intimates on stage, which many enthusiastic girls happily did.
He continued to perform "Happy Camper" hits, including my favorites "Champagne and Pools" and "Are You Having any Fun," below impressive light shows. As the show came to a close props were introduced as some of Hoodie's crew came out with a jump rope made of audience bras that he successfully jumped multiple times. Actual cake was thrown into the audience during his exhilarating performance of "Cake Boy."
Allen displayed a charming affinity for his fans, giving thanks multiple times throughout the show and proclaiming that despite all the people around "I am performing a personal show for each and every one of you."
Overall, Allen put on a high energy and enjoyable show that was perfect for the venue and with an 11:30 conclusion, ideal for a weekday. I would see Allen again if he comes back to Cleveland and urge lovers of hip-hop, pop and rock to do the same. Allen successfully converted me into a happy camper.
Band: Hoodie Allen, Superduperkyle, gnash
Venue: House of Blues Cleveland
Date: March 16
Rating: ★★★★½