Indie rock legends the Pixies to stop by Cleveland on May 17
After over 10 years, the Pixies will be returning to Cleveland on May 17 for a show at the Cleveland Masonic Auditorium.
A lot has changed in that time. They returned from a long hiatus, original bassist Kim Deal departed from the band and "Indie Cindy," the Pixies' first album in two decades, was released.
And now, they're touring again.
"We're trying to get to places we haven't been to play in a while," said David Lovering, the Pixies' drummer. "It's wonderful being back."
Since their reunion, the Pixies' tours around the world have been successful, even though general response to their new sound has been mixed. "Indie Cindy" has received both stunned and disappointed reviews, partly because the new material breaks away from the dirty, risky, punky music that the band is known for.
The band is proud of the release, even though it's different. "We were all very happy with what we had," said Lovering.
The Pixies have had an indelible mark on indie and alternative music, but Lovering doesn't think the scene has changed much now. "From what I'm hearing, I wouldn't even call it 'the new alternative rock,' or whatever," he said. "It's all the same name. It's all the same kind of bands, the same kind of college thing going."
Past albums like "Doolittle" and "Surfer Rosa" became famous around the world, sometimes faster than they gained popularity in the United States. The latter album featured their hit song, "Where Is My Mind," known for an iconic moment in the ending scene of the 1999 film "Fight Club." Here, the Pixies' eerie music plays behind a scene of explosions and catastrophe, until the credits roll on the screen.
It's a song the Pixies still play at almost every show, despite the fact that the album was released in the late 1980s.
"It's nice to play. I'm not sick of it after all these years," said Lovering. "We try to mix in [new songs] like butter so they go down easier."
Of course, with as much music as the Pixies have to choose from, each show's set list is different from the next. Lovering's strategy is to create playlists on his iPod's notes section, with varying lengths of play times.
The show in Cleveland will feature all of their styles, whether it's from their newest album or the ones which made them famous. "I think all of us are playing better than we ever have, especially considering our age," said Lovering.
Concert: The Pixies
Date: May 17
Location: Cleveland Masonic Auditorium
Price: $42
Leave a Comment
About the Writer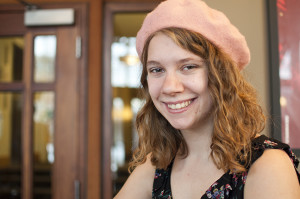 Anne Nickoloff, Director of Print
Anne Nickoloff, the Director of Print for The Observer, is a senior at Case Western. She hopes to one day be a music journalist, and has spent much of...