International Affairs films welcome video as part of response to Trump's immigration
On Friday, Feb. 24, the lobby of Tomlinson Hall was filled with foreign music, national flags from different countries and conversations of inclusivity. Some of those that attended videotaped welcome messages for a video the Center for International Affairs is compiling.
The event was part of the center's #YouAreWelcomeHereCWRU campaign, an initiative in response to an executive order signed by President Donald Trump on Jan. 27.  The executive order bans immigrants from seven muslim-majority countries from entering the United States. Around 16 percent  of Case Western Reserve University's student body is made up of international students, including those originating from the some of the countries on the list.
"That [the executive order] caught many of our students off guard," said Cami Ross, the programming coordinator at the Center for International Affairs, who coordinated the #YouAreWelcomeHereCWRU campaign. "It made many of our people have questions and not be certain about their future."
Vice Provost for International Affairs David Fleshler agreed with Ross.
"The past three weeks since the executive order came out, have been very difficult and an intense time for many people on campus," said Fleshler. "We felt right from the beginning it's important for the administration to stand up and talk about the values and the importance of inclusion."
Campuses around the nation began the campaign as a response to the executive order, calling for inclusiveness and community support for international students, faculty and staff. Seeing the spread of #YouAreWelcomeHere, the Center of International Affairs decided to bring it to CWRU.
"The whole point is to show that the whole campus is welcoming to international students," said Ross.  "So that way the inclusivity that is in our mission statement is being reflected."
The Center of International Affairs is also accepting video submissions of welcoming messages. These clips will later be included in a welcome video displayed on campus and available online.  
"What I have been excited about are students we don't often see that are coming out in full support of this message," said Ross. "We had a student from Syria; we have a group of students from Canada; we have a group of students just from everywhere so that is really exciting to see that it's so universal."
In addition to the #YouAreWelcomeHereCWRU campaign, the Center of International Affairs is committed to offer continuous support for all students on campus. There was an immediate outreach to students directly affected by the order.
According to Fleshcher, however, "it doesn't stop there." Fleshcher pointed out that there are also international students and community members who, while not directly impacted by the executive order, are deeply concerned with the current political situation and its future implications.
Although it has been more than three weeks since the executive order was signed, Ross thought it is important to have a campaign like #YouAreWelcomeHereCWRU to "keep the dialogue going."
"I think it's helpful that this has been a few weeks out, so that way people can continue to recognize that it's not a fad," said Ross. "This is really intrinsic to what CWRU is as a university, a welcoming university."
While the CWRU campus is providing various means of support for its international community members, Fleschler also recognized that the support goes beyond CWRU. He wanted to remind the campus that CWRU is "not just a little island here, but there is an outside world that feels the same way."
About the Contributor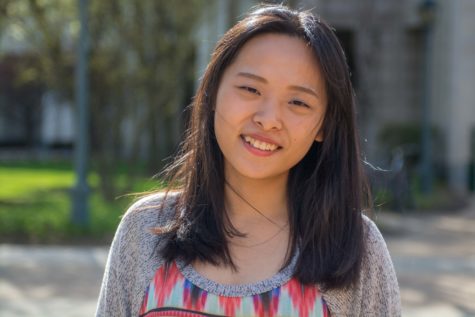 Celia Wan, News Editor
Celia Wan is a sophomore majoring in mathematics and history. She joined The Observer in the fall of 2015 and became the news editor at the end of her...