Is a CWRU degree worth the price?
Average debt for CWRU graduates higher than national average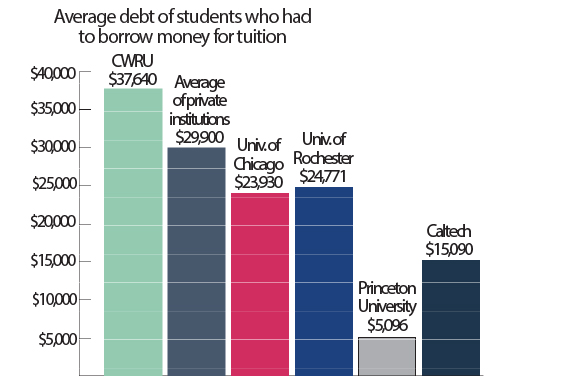 Across the country, college tuition is becoming increasingly more difficult to pay for. According to the College Board, tuition costs have hiked approximately 60 percent over the past 10 years. During that same period, reports from The Brookings Institution indicate that student debt has increased by more than 77 percent. In its annual "Trends in College Pricing" report, The College Board reported that private colleges' prices rose by 3.8 percent in 2013.
Case Western Reserve University tuition increase was slightly less than the national average at approximately 3.2 percent from the 2012-2013 school year to the 2013-2014 school year; however, the figure does not include the increase in room and board rates.
The overall increase in price for attending CWRU has intensified the financial strain amongst students including sophomore Alyssa Daniels and junior Sitara Koneru.
"I have considered transferring [from CWRU] because of the increase in tuition and room and board," said Daniels.
Koneru was also frustrated by the tuition hike because it was not something her family anticipated when planning for college.
"One of the reasons I picked CWRU was because of how generous they were with scholarship money for me, but each year tuition keeps increasing, which is very frustrating. It definitely makes me worry about future debt," Koneru said.
To some, CWRU is notable for the amount of financial burden it puts on attending students. According to the article "Colleges that Lead to the Most and Least Debt" published by US News & World Report, CWRU was one of the highest ranked colleges that graduated its students with one of the highest amounts of debt. Ranking 37 in the top colleges category, it reported that 59 percent of the graduating class of 2011 borrowed money to pay for school, resulting in an average debt of $39,886. In 2012, CWRU fared slightly better reporting that the average total debt of the 2012 graduating class was $37,640.
According to The College Board, though, the average debt of students earning bachelor's degrees in the same category as CWRU, private nonprofit institutions, was only $29,900.
The University of Chicago's average total debt of graduating students for the 2012 graduating class was $23,930 and University of Rochester's average total debt was $24,771. Both are often used as comparative institutions.
The schools' financial policies also differ to CWRU's.
The University of Chicago meets 100 percent of demonstrated need for all of its undergraduates, and the University of Rochester meets approximately 83 percent; whereas CWRU only meets 47.3 percent of demonstrated need.
Even students at schools like Princeton University and California Institute of Technology (CIT), who some would think would cost more than attending CWRU, graduate with significantly less debt. The average total debt of the graduating class of 2012 at Princeton and CIT was $5,096 and $15,090, respectively. However, only 24 percent of Princeton's and 44 percent of CIT's graduating classes in 2012 borrowed money to pay for college, compared to 52 percent of CWRU's class of 2012.
Both schools also meet 100 percent of demonstrated need for all its undergraduates.
Universities have different financial aid policies and strategies. Some schools focus more on meeting unmet student need, while others focus more on granting merit aid.
While CWRU does not focus on demonstrated need as much as the other institutions, it does give out more institutional merit grants and scholarships than the others. According to the National Center for Education Statistics, in the 2011 to 2012 school year, 80 percent of students at CWRU received institutional grants or scholarships, compared to only 59 percent of students at the University of Chicago and 60 percent at Princeton University.
Even though CWRU spends more institutional money on its students, the fact still remains that students graduate with debt much greater than the national average.
The heightened debt of CWRU lead a few to ask the question, "Is attending CWRU really worth it if I end up with a tremendous amount of debt?"
Looking through the CWRU Alumni Facebook page, some alumni do not think so.
CWRU alumnus Andrew Neil, for example, noted that he was drowning in student loan debt, and alumna Heather Margaret echoed his claim, saying she is "working like a dog to pay off all her loans."
The reaction to CWRU's tuition has not been entirely negative. Many alumni have an equal amount of praise for the institution.
William Ferry graduated from CWRU with a degree in economics and political science and said, "I love this university! [It] changed my life."
Alum Sarah Ginsberg also stated, "CWRU gave me a wonderful education and set me up for an amazing career. I am not sure where I would be without that education."
Another fact that suggests graduates are pleased with their education is that alumni giving to CWRU has increased over the years.
CWRU's first 'Day of Giving,' for example, yielded 795 donors pledging approximately $195,000, greatly exceeding their goal of 618 donors; and, overall, CWRU has met 90 percent of its capital campaign's $1 billion dollar goal three years before its end partially because of alumni commitments.
An additional sign revealing the value of a CWRU degree is the number of undergraduate applications it has received. Over the past five years, for example, the number of applicants to CWRU has increased by approximately 150 percent.
Freshman Kevin Dong decided to attend CWRU in part because of its generous merit aid.
"CWRU ranked highly in academics, and they gave me excellent scholarships. The combination of the two made me choose to attend this institution," said Dong.
There are plans to make tuition more affordable.
In CWRU's strategic plan draft for 2013-2018, it stated that "We [CWRU] have increased funds for student support (including scholarships and fellowships) by $138.5 million since the launch of our capital campaign. But we also must find more ways to constrain tuition growth, efforts that will include through securing additional revenues, enhancing efficiency and identifying additional ways to reduce spending overall."