Italian Film Festival opens on campus
On the evening of April 2, 150 members of the Case Western Reserve University and Cleveland community walked into Strosacker Auditorium to experience the opening night of the Italian Film Festival USA – Cleveland, featuring Antonio Padovan's "The Last Prosecco."
The Italian Film Festival – USA is a celebration of Italian language and film that will run through April 20, with a short break from April 8 to 15 as to not overlap with the Cleveland International Film Festival. Films will be screened in Italian with English subtitles at Strosacker Auditorium and Cuyahoga Community College's Black Box Theater. The event is the Cleveland iteration of the nation-wide festival that will take place in cities from Chicago to Indianapolis to Detroit.
Films screened on campus also include "Funne, Sea Dreaming Girls," on April 4, "The Sense of Beauty," on April 15, and "Cucini" on April 18. All three screenings will happen at 7 p.m.
Out of the Cleveland screenings, one of the more unique ones is "The Sense of Beauty," a 2017 documentary on the overlap of science and art at the European Organization of Nuclear Research (CERN).
"Detroit wanted to celebrate the 'Day of Italian Research in the World' and here at CWRU we have an appreciative community of both sides of this documentary, the scientific and the humanities," said Denise Caterinacci, the Department of Modern Languages and Literatures representative for Italian and chair of the Cleveland festival, in an email. "I knew our Cleveland attendees would want to share in a screening of this type, especially since it is currently unavailable any other way."
Caterinacci has a long history with the Italian Film Festival, having first been invited to participate in 2008. However, this is the 11th year that part of the festival will be held at CWRU. The event also collaborates with CWRU Film Society, a student organization that handles the actual projection of the movies.
The film Caterinacci anticipates the most, however, is "Cucini," a documentary prepared by a chapter of Slow Food in Naples, Italy.
"It is stunning from every perspective. It connects our appreciation for traditions and history to our identification of a place as represented by its food, flavors and customs, and it provides us with beautiful poetry about those connections, which also adds an even deeper dimension," she said. "It truly captures and synthesizes the human senses and spirit."
Students looking to attend screenings can access the schedule website, and all the films are free.
Leave a Comment
About the Writer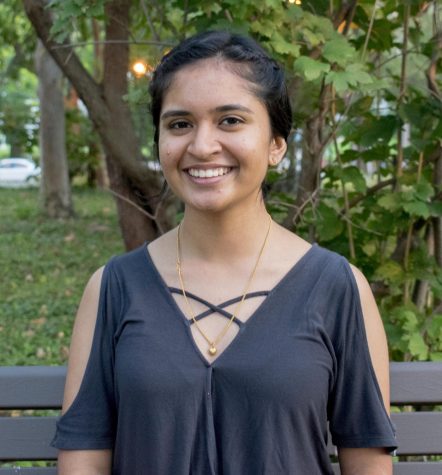 Smruthi Maganti, Arts and Entertainment Editor
Smruthi Maganti is a third-year student studying biology with a minor in public policy. After a year of copy editing, this is her first year as the A&E...