Jain: Can we trust the COVID-19 vaccines?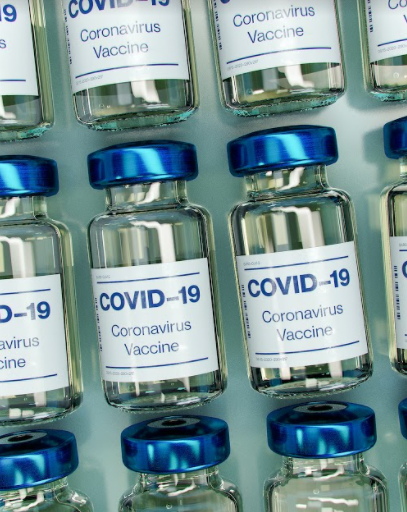 There has been a lot of buzz brewing this month with the announcement of COVID-19 vaccines that have been proposed by Pfizer/BioNTech and, more recently, Moderna. If you are an innate skeptic like me, you are probably wondering, how were the vaccines able to be created so quickly? Are they safe and effective for people? When will they be available for the general public?
Hence, I am writing to answer all your questions and create a more clear picture of the situation around the impending vaccine.
To start off, Pfizer, a U.S. pharmaceutical company, and BioNTech, a German biotech company, collaborated to create a vaccine and reported its success on Nov. 9. This week, an American biotech company, Moderna, has claimed its success of a vaccine, too. But in comparison to the Pfizer/BioNTech vaccine, Moderna has disclosed more data from its clinical trials, making it more credible.
An independent board monitoring Moderna's 30,000-person vaccine trial reported to the company and the U.S. government health officials that only five people in the vaccinated group developed confirmed cases of COVID-19, while 90 people in the placebo group (who did not receive the vaccine) became ill with the disease. Evidently, their efficacy rate is 94.5 percent. As of Nov. 18, Pfizer and BioNTech claimed an efficacy rate of 95 percent for their 43,000-person study, 28 days after a first dose. Eight cases occurred in the vaccine-treated group, while 162 cases occurred in the placebo group.
Both vaccines prove to protect all subgroups of the population, including high-risk populations (people with heart disease, diabetes and other underlying health conditions), elderly and minority groups. In their study, Moderna said that in the placebo group there were a couple cases of severe COVID-19, but in the vaccinated group, the few COVID-19 cases that arose were not severe. Pfizer/BioNTech experienced similar results, with one severe case in the vaccinated group and only nine in the placebo. Thus, the vaccine can safeguard vulnerable populations from developing severe infections of COVID-19.
But amid these hopeful results, there are still doubts that concern many people, especially about the distribution of the vaccine. Warm temperatures can degrade the ribonucleic acid (RNA) and lipid (fat) particles which make up the vaccines, and thus they must be stored in cold temperatures, which can be inconvenient for transportation.
Furthermore, Dr. Ruth Karron, director of the Center for Immunization Research at Johns Hopkins Bloomberg School of Public Health, noted that neither Moderna nor Pfizer/BioNTech studies evaluated the vaccines for preventing infections and symptoms of the disease—which is necessary to curtail the spread of the infection. The data only indicates that the vaccine can protect one from getting a severe illness, but that does not mean you cannot get infected.
There is also insufficient representation of minority groups in the clinical trials. This is important because marginalized communities are most gravely affected by COVID-19.
As of Oct. 21, Moderna reported 37 percent of volunteers in their Phase 3 study to identify as non-white, while Pfizer/BioNTech reported 30 percent of their Phase 3 U.S. volunteers to come from "diverse backgrounds." Clearly, there still remains space for more minority participation.
Dr. Carla Harwell, a medical director of the University Hospitals Otis Moss Jr. Health Center in the Fairfax neighborhood of Cleveland, agreed to recruit patients for the clinical trials for the COVID-19 vaccine. Despite the trust she has built with patients and being a Black minority herself, she concedes that it has been a struggle enlisting more Black participants into the COVID-19 clinical trials.
The lack of minority participation stems from not only the spread of misinformation from political leaders regarding the severity and existence of COVID-19, but also from the historical maltreatment Black people have endured in medical research. One example is the Tuskegee Syphilis Study, a 40-year long experiment in which researchers never informed the Black male participants about the intent of the research, nor did they offer them treatment for the disease when it became available. The study only ended upon public awareness of it in the 1970s. Consequently, many of Harwell's Black patients are apprehensive about unknowingly receiving harmful concoctions in their syringe.
However, Harwell says that there are now new and improved mechanisms put in place to prevent intentional or accidental maltreatment in clinical trials. The lack of patient education on clinical trials among people of all subgroups is what prevents individuals from knowing the new safety measures that have been placed to protect them. Moreover, the urgency of devising vaccines and hosting large-scale clinical trials must match the urgency to adequately inform patients on the process and safety measures that comprise clinical trials so that more people participate.
According to Harwell, "We want to make sure that we're represented so that we know that the vaccine will be safe and that it works for us."
In addition, a U.S. government effort, called Operation Warp Speed, has developed a portfolio of COVID-19 vaccines and generously funded the efforts of Moderna and Pfizer/BioNTech.
They have invested $1.5 billion to Moderna to purchase 100 million doses of its vaccine and $1.9 billion to the Pfizer/BioNTech vaccine to purchase the same amount of doses. Both mRNA vaccines are equally promising, but still need to complete their efficacy trials, which are expected to conclude by December. Around the same time, the U.S. Food and Drug Administration plans to convene an advisory committee to review the data. Moderna and Pfizer project production of 20 and 50 million doses of the vaccine by the end of the year, respectively. Pfzier also emphasized they would dispense their vaccine to countries outside of the U.S. The first doses will go to high-risk groups, but there should still be enough to vaccinate the entire U.S. population by springtime.
Evidently, with the incredibly high efficacy rates of the vaccine across large population sizes and its ability to protect vulnerable populations from the dilapidating effects of COVID-19, these vaccines foster more optimism for the future. Even though life will forever be changed post-COVID, we may still be able to return to a life akin to our pre-COVID-19 existence sooner than we expected.