Jain: Voting is power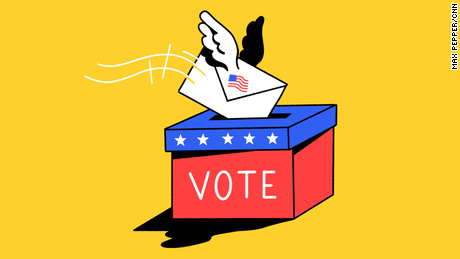 The 2020 election. I'm sure you've heard this phrase countless times. I know I have, and each time, I have a passive, nonchalant attitude towards it. How could my one vote possibly make an impact? Many of you may be thinking the same thing. I never really understood the importance of voting, and perhaps it was my gap in knowledge that led me to think that way. Therefore, I felt it my mission to learn and share with you why voting really is important. 
Through preparing for and writing this article, I can now say with conviction that one vote does indeed matter. 
On a large scale, it's easy to think that your singular vote will become engulfed by millions of others, but it all adds up and one vote can mean a large difference. Such was the case with the 2016 election.
"Some elections are razor-thin. In 2016, the margin of victory for Donald Trump in the swing states that he won was less than one percent," expresses Rachael Cobb, Ph.D., chair and associate professor of government at Suffolk University. Cobb also emphasizes that one vote impacts all elections—House of Representatives, Senate, governorships and local elections—not just the presidency.  
In being a democracy, the power of our country is vested in us, the people, and voting is our means of exercising that power. It grants people the chance to influence the government, shape important policies and steer the future direction of our town, state and country. Whether it be at the local, state or federal level, the decision-making is always in the hands of representatives—representatives that we choose. Hence, elections are a way for us to voice our concerns and stand up for issues we care about. Without voting, there would be no democracy.
Our democracy is already fragile, in part due to voter restrictions and suppression, preventing millions of people from voting each year. 
36 states currently have voter ID laws that require voters to present identification before their ballot is officially counted. These laws were implemented to help prevent voter fraud, but a new study revealed them to be discriminatory. The study examined turnout changes across every county in the two most recent presidential elections: 2012 and 2016. Differences in turnout were then compared in states that enacted new voter ID laws with states that did not. According to the results, racial and ethnic minorities fell further behind when strict voter ID laws were introduced. In other words, the voices of racial and ethnic minorities were muted in states that had these laws. 
If voting wasn't so important, then why would people keep trying to take that power away from others? Because it actually does matter. And I think it's important that we realize this. When George Washington was elected president, only six percent of the population was allowed to vote, chiefly white male landowners. Now, voting rights have expanded to include a majority of the population, all due to the grit and perseverance of many women and men before us. 
Voting is not only the most important political right, but the most hard-won right. It is a privilege that should not be taken for granted. 
The election is just around the corner, and with the pandemic still afoot, it will look different depending on each state's safety and voting regulations. Assuming that you are all first-time voters like me, it is integral that you are informed on how the voting process will be for your state to ensure that your vote counts. Reliable information can be found on the Secretary of State's website. 
That being said, GO AND VOTE!