Jolly Scholar attracts unexpected crowd with butterbeer
More than two decades after "Harry Potter and the Sorcerer's Stone" by J.K. Rowling was published, it is hard to name a more timeless novel published recently. Even today, tributes to the series are ubiquitous, from the upcoming release of a game called "Harry Potter: Hogwarts Mystery" to the distinctive lightning bolt scar and round glasses on my roommate's pumpkin, a relic from last Halloween and a nod to her favorite series.
As a future Hufflepuff patiently waiting for her long overdue Hogwarts letter, I eagerly anticipated the Jolly Scholar's "Muggle Lover" Butter Beer release. A huge fan growing up, I was not disappointed by the venue.
Having opened just last May, the Jolly Scholar's brewery is relatively new and bursting with ideas. According to Aaron Wirtz, the head brewer at the Jolly Scholar, the whole event stemmed from the creation of the Butter Beer in Jolly's brewery.
For me, he described the drink as a "strong, golden beer with oat malt, creamy vanilla, crystallized caramel, and lactose." A Potterhead himself, Wirtz was very particular when creating the Butter Beer, and was determined to make it as authentic as possible. For example, he had insisted on a foamy nitro beer to resemble the movie version.
Wirtz continued, explaining that as a former science teacher, he often sorted his students into Hogwarts Houses, and had obtained a Sorting Hat for this purpose. An integral part of the event, the Sorting Hat sorted visitors into houses and my Hufflepuff hopes were dashed when I was declared Slytherin instead.
Although the event was catered to a crowd of adults older than twenty-one, the Jolly Scholar welcomed young adults too. The restaurant had its usual booths, but space had been cleared for Harry Potter trivia.
"The trivia was definitely my favorite part of the event!" exclaimed first-year student Jordyn Harberts. "I love the Harry Potter series and this was the perfect way to showcase my knowledge and have a great time with my friends!"
However, not everyone was as pleased with the event as Harberts was. "I was really hoping for more food options for non-drinkers, or maybe a non-alcoholic Butter Beer," first-year student Kate Haering proposed. Still, Haering admitted she really liked the idea of the Sorting Hat and a "Platform 9 ¾" curtain hanging from the doorway also set the mood.
Wirtz addressed these issues, explaining that the restaurant had not anticipated the crowd the event would attract. Jolly Scholar owner Matt Vann had advertised the event on Facebook, but the brewery had only one keg of the Butter Beer.
As for the future of Muggle Lover, Wirtz has high ambitions.
"I really hope this becomes an annual event that expands," he said. "I know there were a lot of non-drinkers so maybe we could coordinate something with the Student Union and even expand into Thwing Center.
For all wizards and warlocks, Muggle Lover seems extremely promising for next year. For now though, the Jolly Scholar remains a homey place for a sit-down meal or Tapingo.
About the Writer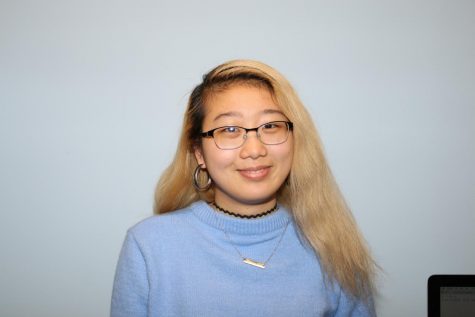 Yvonne Pan, Development Editor
Yvonne Pan is a fourth-year student double majoring in civil engineering and environmental studies, and minoring in English. Freshman year, she spilled...