"Judy's Hand" artist shares inspiration
Tony Tasset, a 58-year-old Chicago artist, discussed "Judy's Hand" in Kelvin Smith Library on Wednesday, April 11.
"Judy's Hand" is a silver hand-shaped pavilion which will be a new landmark on Toby's Plaza. The piece is part of the first FRONT International: Cleveland Triennial for Contemporary Art, a contemporary art festival which will feature over 100 artists displaying their work across 17 venues in Northeast Ohio.
"Those of us who love art understand it conveys vital knowledge about the wonder and diversity of the human condition," said Elizabeth Bolman, professor of art history at Case Western Reserve University. "Attempts are often made to push art to the margins, but events such as FRONT underscore its centrality."
For Tasset, "Judy's Hand" is a component of his expansive art career.
"One of my earliest memories is being in church and [my] mother giving me a little sketchbook when I was [three-years-old]," he said, "and I've been drawing ever since."
Tasset creates art displayed in galleries and museums, and public art for display in parks and office buildings. His work often features small, everyday objects blown up to enormous proportions. One of his most famous pieces is a 30-foot sculpture of an eye, which is displayed in downtown Dallas. The piece is a realistic portrayal of a single eyeball with a blue iris.
"Even if people don't like it as art, it'll be a great photo op," Tasset said, showing off an image of people doing yoga in front of the eye.
Tasset often uses everyday objects as the subject of this work.
He said, "I'm not after originality. I'm after something universal."
Tasset reminisced on a time when a gallery invited him to present his work in Zurich. His piece, a bronze replica of a torn, white styrofoam cup, did not make a good first impression.
"[A representative] looks down at the floor at this thing, and you can't tell it's bronze," Tasset said. "She … says, 'This is what you did for us?' I sheepishly said, 'It's kind of what I do, and it's bronze.' As soon as I said, 'It's bronze,' she loved it.'"
Tasset's wife, Judy Ledgerwood, is a modern artist as well. In fact, a cast of her right hand is the basis for "Judy's Hand." The 25-foot-tall silver fiberglass pavilion apparently weighs 1,400 pounds.
During the design process, Tasset considered the simplest way to make a structure; he thought of children making hand structures while playing on the playground. The nursery rhyme, "Here's The Church, Here's The Steeple" served as his inspiration.
Tasset chose the color silver to connect the piece with an industrial city, like Cleveland. He also did not want the hand to have a specific race attached to it.
FRONT Executive Director Fred Bidwell said he thinks "Judy's Hand" is going to be one of the most iconic works featured during the Triennial.
Bidwell began his career as an artist, but struggled to make a living doing so. Bidwell then moved to advertising for 35 years before retiring, then sold his company and established FRONT.
"I couldn't do this in New York or Chicago or Los Angeles. Those cities are too big, too expensive, too complicated," Bidwell said. "The great thing about Cleveland is that it has the scale where you can actually create something very ambitious and make a big difference, but it also has the infrastructure."
He added, "It has [CWRU], it has the Cleveland Museum of Art, it has MOCA; it has the institutions that give us the right to do this kind of program."
Leave a Comment
About the Writer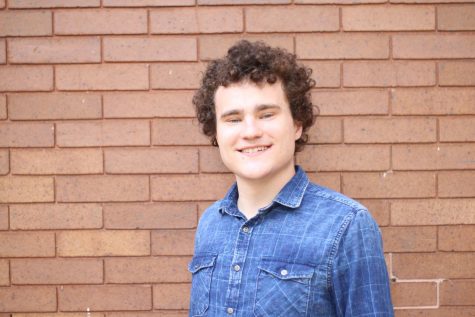 Matt Hooke, Executive Editor
Matt Hooke, The Observer's executive editor, is a fourth-year student studying English. This is his first year as executive editor after spending time...