Kesha is back and better than before
Eighth grade to high school for me was dominated by Kesha (formerly known as Ke$ha). I loved the raunchy and blunt lyrics and her devil-may-care attitude. The shallow party music was my guilty pleasure. I was upset when Kesha stopped churning out new music. (Although it was later revealed to be a result of an ongoing legal battle between her and her producer Dr. Luke). I understood that she was going to be going in a new direction from now on (how could she not after what has happened?), but I'd be a liar if I didn't admit I was sad I wouldn't see more of "Gold Trans Am" or "C U Next Tuesday." "Rainbow," released Aug. 11, exceeded all my expectations and is one of my favorite albums of the year.
Kesha's attitude is showcased from the very first song on the album, entitled "Bastards." Kesha's voice is the focus as she tells us not let the bastards get us down or let the assholes wear us out. It connects her personal struggles over the past few years to the Kesha that I blared in my high school parking lot. This was just Kesha more grown up, with more (unfortunately, tragic) experiences and wisdom to share with us.
"Let 'em Talk" has Kesha and Eagles of Death Metal delivering an energetic, independent pop-rock anthem of not caring about what people are saying. The album continues with Kesha's "Woman," bursting with confidence and woman-power, exemplified by a section in the middle of the song when Kesha just laughs. That's when it hit me that Kesha hasn't gone anywhere. "Boogie Feet" is a testament that she can still churn out shallow dance hits.
Kesha also delivers on softer ballads, laying herself out there for everyone to listen. This is evident in "Praying," her first single off the album. This track addresses those who have hurt her with forgiveness, and she wishes them change and peace. Then "Rainbow," the song which gave the album its name, talks about the peace after the storm, like Kesha is our older sister telling us it's all going to be okay. Favorite lyrics from this track are "But I'm falling right back in love with being alive" and "I can't lose hope, what's left of my heart's still made of gold."
Honorable mention goes to "Old Flames (Can't Hold a Candle to You)." It's an incredible mixing of voices, but it's also personal, as Kesha's mother wrote the song for Dolly Parton 40 years ago.
"Finding You," "Hunt You Down" and the blues-y "Boots" show the range of lyrics in love songs. "Finding You" talks about promising forever, because she'll continue to find her partner over and over again in her future lives. "Hunt You Down" is a "fun" song about how she'll hunt the person down if they cheat on her. For Kesha fans, this and "Cannibal" are more of the usual. Kesha can be sweet, sing about sex in just boots, but she is not to be screwed over. It's this display of vulnerability and strength that makes her music worth the listen, and her lyrics ones to remember.
It's Kesha's ability to belt "I'm a motherf***ing woman" and switch gears to "Oh, sometimes, I pray for you at night/Someday, maybe you'll see the light" and then back to singing "I'm gonna shake my butt, yeah, it's a guarantee/My moves are such good luck, you'll win the lottery" that shows the miracle she is to music. She can show the dimensions of life, from when you're exploding with confidence, to feeling defeated to falling in love. This album is a testament to strength, forgiveness and being able to laugh and dance even after hardship.
Album: "Rainbow"
Artist: Kesha
Release Date: Aug. 11, 2017
Leave a Comment
About the Writer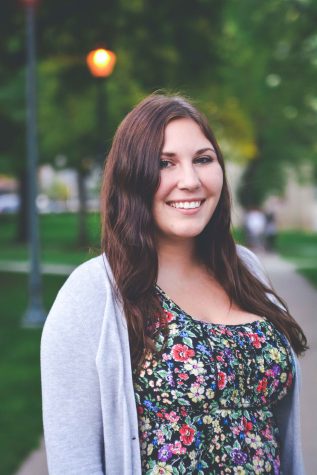 Alex Clarke, Arts & Entertainment Editor
Alex Clarke is a senior with majors in english and psychology and a minor in marketing. She also writes for Trill Mag, wrote for McClatchy newspapers for...