Kiss at Republican debate goes viral thanks to sports
Less than 15 minutes after kissing his boyfriend behind Chris Matthews in a live broadcast on MSNBC, Paul Nicastro got an excited text from a friend who'd seen the video online.
Nicastro and Jimmy McGuire had gone to East 4th Street for dinner, not expecting that coverage of the Republican debates would be filmed directly outside the restaurant. Realizing that the stage she had assumed was set up for live music was actually going to be broadcast on television, McGuire's cousin dared the couple to kiss in front of the cameras.
McGuire and Nicastro hesitated at first, but eventually they agreed. Shortly after they kissed behind Matthews twice—the second time in case the cameras missed them the first time—sports blog Deadspin tweeted a photo. It included Chris Matthews, a Deadspin reporter holding up a sign about football player Joe Flacco, and McGuire and Nicastro kissing.
Deadspin's caption: "Oh hey."
A YouTube video of the kiss as it appeared on "Hardball with Chris Matthews" gained several thousand views, though it was removed shortly after being posted. Deadspin's Tweet has over a thousand retweets and favorites.
Ann Coulter also posted the photo, captioned "Meanwhile, behind Chris Matthews…" and that post was retweeted and favorited several hundred times.
"The reason that picture is kind of loaded is that there's us, behind a major news media outlet, and then to the right of us is the guy holding the sign with the bad grammar," said McGuire. "He works for Deadspin—he goes around and mocks trends in sports fandom…It's just funny that they caught him raising the sign and us at the same time, so it's a really dichotomous picture."
Nicastro added, "Someone at Deadspin was like, 'Oh my god, perfect. Click."
For a couple of days after the photo and video began to spread online, the couple would check their Facebook accounts and see new notifications every 15 minutes. During McGuire's bus ride to work, a stranger approached him to ask if he was the man from the video.
"I swore I wasn't gonna do it, but I did it," said Nicastro of reading the online comments about their kiss. However, they were pleasantly surprised by the largely civil comments sections.
"There were some negative ones, especially on Ann Coulter's post, but not as many as you would think," said McGuire. "More people focused on the sports aspect, or the grammar aspect, not us."
Their favorite comments were people comparing Nicastro to Seth Rogan and one comment that read "Eww, two Clevelanders kissing!"
The kiss also had meaning for the couple beyond an amusing moment of fame.
"As far as a purpose for it, it would be to get the LGBT movement closer to that being just a normal, acceptable thing," said McGuire.
With the Republican National Convention coming to Cleveland in the summer of 2016, McGuire and Nicastro confirmed that they would definitely kiss at future political events, if an opportunity arose.
"My goal would be to get behind a Fox News stage and do that," said McGuire. "Our goal isn't to go hunting for news cameras, but if it works and we're there, then yes. It would be hilarious."
The couple recently celebrated their fifth anniversary, and they do not regret that their momentary fame seems to have receded.
"For us, it's just gonna be a nice perfect moment in our relationship," said Nicastro.
Leave a Comment
About the Contributor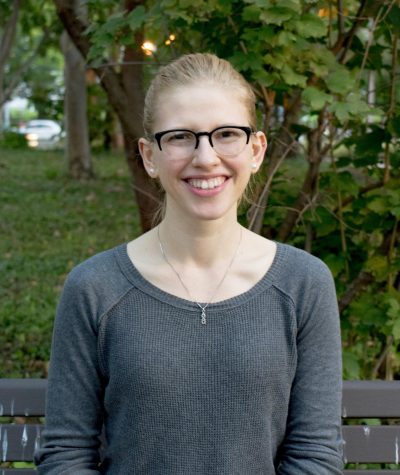 Aquene Kimmel, Director of Web and Multimedia
Aquene Kimmel, Director of Web and Multimedia, is a fourth-year English and French major. She is also Editor-in-Chief of The Athenian and a member of Pi...