Larchmere Festival celebrates local culture
A New York City native, this summer is my first spent in Cleveland and I have not been disappointed. From live concerts every Wednesday at Wade Oval to countless trips to Edgewater Park Beach, I have grown to love Midwestern hospitality and the Cleveland community.
My parents instilled a love for flea markets in me; I watched them bargain with vendors almost every weekend for decorative pieces to add to our living room.
On Saturday, July 7, I attended the 11th annual Larchmere Festival. I heard about the festival from my former SAGES professor, Dr. Lucy Biederman. The English professor had a booth at Loganberry Books' Author Alley, one of the biggest annual gatherings of authors in Cuyahoga County. I made my way through the bustling Larchmere Boulevard to the neighborhood's highly celebrated bookstore. Dozens of tables were positioned on opposite sides of the adjacent alley, where local authors invited their readers and potential fans to discuss their books.
Loganberry Books has shelves brimming with books, and a friendly gray and white cat named Otis. I found Biederman inside the bookstore with signed copies of her 2017 Vine Leaves Press Vignette Award winning book, "The Walmart Book of the Dead," scattered across the table in front of her.
Author Alley closed for the day with an hour left of the Larchmere Festival celebrations. Vendors had their goods lined up, the various flowy dresses, scented candles and cupcakes tempting me to spend some money.
As I nibbled my red velvet cupcake, I came across a sign advertising a glassblowing demonstration at Larchmere Fire Works. Although we barely missed the public demonstration, one of the blacksmiths offered us to do it for us regardless, carefully placing a heated piece of glass into the annealing oven.
"The demonstration was breathtaking; I loved the different swirls of color [the blacksmith] chose and his meticulous attention to design," said second-year student Nitya Talasila.
After his demonstration, we made our way to the Chess Challenge across the street. A former chess player myself, I love how the game can bring so many people—across generations—together. I peered over the shoulder of a young boy deliberating his next move. His opponent, probably 50 years his senior, matched his foe's concentration.
As we continued down Larchmere Boulevard, a variety of stores and their wares caught my eye. Eclectic Eccentric, a vintage store which sells extraordinary goods, stood out for its quirky clothing and unique paintings. The store lives up to its name, and I left the shop armed with new dorm decor.
Although the Larchmere District is situated less than 10 minutes away from the Case Western Reserve University campus, attending the Larchmere Festival marked my first time in the neighborhood. The abundance of unique stores and friendly people encourage me to visit again soon.
About the Writer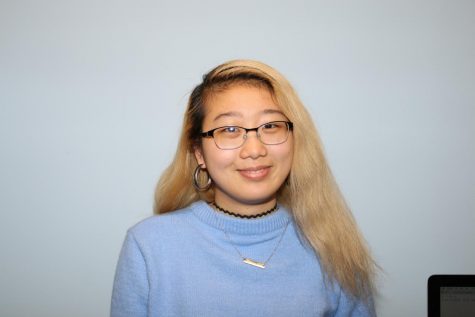 Yvonne Pan, Development Editor
Yvonne Pan is a fourth-year student double majoring in civil engineering and environmental studies, and minoring in English. Freshman year, she spilled...