Late goal sinks Spartans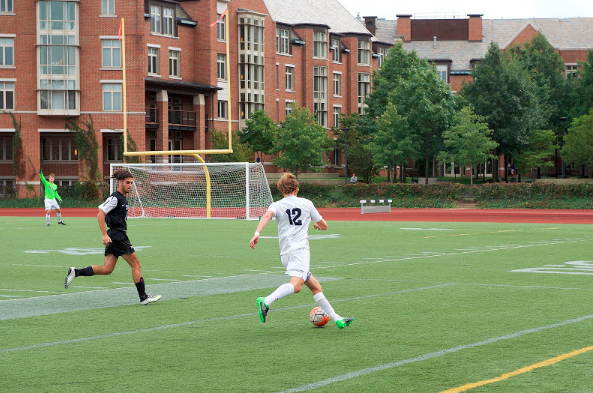 After an impressive win against No. 2-ranked Kenyon College last week, a victory that made school men's soccer history, the Spartans dropped their first University Athletic Association (UAA) match against the New York University Violets. They fall below .500 again with a record of 4-5-1.
The first half of the game proved competitive. Both teams played aggressively, accumulating 22 total fouls in the game. The officials awarded the Violets four yellow cards in the first 43 minutes.
The Spartans had the offensive edge in the first half, outshooting the Violets 9-0. None of the chances resulted in goals. However, half time would see adjustments that would allow the Violets to get more opportunities to challenge third-year goalkeeper Calvin Boyle.
The Spartans also dialed up the aggression, earning two yellow cards in the second half. But the Violets struck on goal first in the 62nd minute, with Drew Enyedi finishing the opportunity with a header off of Ricardo Mitrano's corner kick.
When down 1-0, some teams become frustrated and lose inspiration. Case Western Reserve University's team did the opposite. In the 65th minute, the Spartans quickly found the back of the net to equalize. First-year midfielder Marques Manta scored his first goal of the season coming off an assist from third year forward Michael Balog, tying the score at 1-1.
After trading shots for nearly 20 minutes, the Violets found their way onto the scoreboard once again. First-year forward Owen Smith found a loose ball from a corner kick and finished the opportunity in the 86th minute. The score would stick, and the Violets would win despite trailing the Spartans in total shots, 17-7.
The Spartans have yet to find a consistent form this season. They've bounced back from losses to win the following game but have failed to string together two consecutive victories. Similarly, they have yet to tie or lose two in a row. They have never recorded the same result in any adjacent games.
CWRU men's soccer will play again on Saturday, Oct. 8 at Brandeis University. They don't return home to DiSanto Field until the 28th of the month.