Kicking and singing
Less than Jake/Reel Big Fish bring dance party to HOB
You don't know what it's like to feel crushed at a concert, until a large man wearing a studded vest tries to crowd surf, and slams down onto you instead.
This was experienced by much of the audience at the Authority Zero/Reel Big Fish/Less Than Jake show last Friday, Jan. 23. Between "Sellout" and a cover of A-ha's "Take On Me," anyone who wanted to could float on a sea of bobbing hands.
One by one, they spilled over the edge of the pit with the help of several guards, kicking and singing all the way.
The show was great fun, but it came at a price; let's not forget the easily-excited punks in the middle of the circle pit. Always beware the flying boots at shin level. And if anyone expected to get out of that pit without getting hit by a flying elbow, that person was in for a rude awakening.
Most people knew what to expect, and most people knew how to handle it.
I heard lots of "sorry's" shouted when people got bumped too hard. When a girl fell down on the ground, surrounding dancers shielded her until she stood. After losing my wallet, my new punk friends lit up their phones and helped search. We didn't get ahold of it until after Reel Big Fish's set, and when I had it back, not a single bill was missing.
Punks are polite. They just go hard.
After all, this was Authority Zero, Reel Big Fish and Less than Jake we're talking about; what else could you expect? They are all some of, if not the biggest bands in the history of American punk/ska. The sold-out show was filled with diehard fans who, to quote a yellow-mohawked worker, were there to "fuck shit up!"
Authority Zero, as more of a garage rock band, saw a less kick-happy crowd. But after faster and faster repetitions of "Rattlin' Bog" (to the point where singer Jason DeVore seemed like he'd pass out), there was no doubting their energy onstage.
Reel Big Fish brought some ska, with singer Aaron Barrett wearing an outrageous outfit combining mutton chops with a pink blazer, zebra sunglasses and a Hawaiian shirt. There was no shame.
People danced any way they wanted to, with the band pretty much doing whatever they wanted to do, too. That included inducing square dancing, head banging and booty shaking in the audience.
Even the guards made their own fun. During a slower moment for the audience, one of the protectors picked up a handful of blue and yellow confetti from the ground and puffed it over the other guard's head, laughing.
The eye of the storm after Reel Big Fish's show was rudely ended at Less than Jake's entrance, with a recording stating: "Ladies and gentlemen…shut the fuck up."
Seconds later, Less than Jake ran straight into hit song "Look What Happened." Singer Chris Demakes burped into the microphone, trombonist Buddy Schaub winked at a photographer and guitarist Roger Lima waved hello at the balcony's quiet audience. Two audience members were invited onstage to dance behind the band, and Lima shook his finger with a smile when the boy tried to sing into his microphone.
At the end of the night, when things—sort of—calmed down and the audience shouted for one more song, Demakes walked onstage and started an acoustic set. Streamers dangled from the rafters on the ceiling, caught in a whitish blue light, and most of the crowd sang along with the hushed words before launching into the full band version, shoving the audience back into dance mode.
The end of the night was a fitting, all-out dance party, full of flailing both onstage and in the crowd.
No one cared about how they looked; they were punks.
They did what they wanted to do.
Concert: Authority Zero, Reel Big Fish, Less than Jake
Venue: House of Blues Cleveland
Date: Jan. 23, 2015
Rating: 4/5
Leave a Comment
About the Writer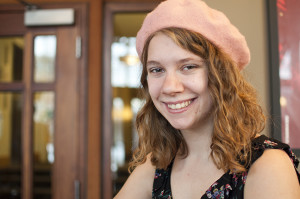 Anne Nickoloff, Director of Print
Anne Nickoloff, the Director of Print for The Observer, is a senior at Case Western. She hopes to one day be a music journalist, and has spent much of...