The life of Kanye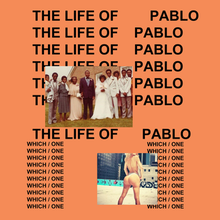 A lot has changed for Kanye West since he last released an album. He became a legitimate fashion designer, he got married and he became a father. While being an influence in the rap industry, he has garnered massive attention in recent years for his outlandish actions. What could West possibly have in store for the fans who crave another album?
West's seventh studio album, "The Life of Pablo," debuted over a week ago at a live listening event at Madison Square Garden. The event was marketed as the unveiling of his Yeezy Season 3 clothing line. Oh, and he was going to debut the album he had working on for three years.
Tickets for the event sold out in 10 minutes, but not to worry if you couldn't get your hands on a ticket: The event was streamed to movie theatres across the nation and on TIDAL, the streaming service founded by long-time Kanye West mentor Jay Z.
In the words of West himself, "Out of respect for Q-Tip, Puff, Hov, Lauren, Pharcyde, Mary, Stevie, Michael, Hendrix, James, Pete Rock, Pac, Marvin … this new album is ONE of the greatest albums."
West also said on Twitter, "This album is actually a Gospel album."
Honestly, I couldn't believe him until I heard the album myself. "Ultralight Beam" starts the album and immediately steals the show. "We on an ultralight beam, this is a God dream," West sings, reflecting on his journey of creating this album. Once the choir starts singing, you begin to believe this is a God dream too.
What's a Kanye West album without a few great collaborations? Chance The Rapper, Kid Cudi, Rihanna, Young Thug, The Weeknd, Kendrick Lamar and André 3000 all contribute to West's new LP. The most stunning feature off the album was Frank Ocean, who seems to have crawled out from under a rock just to sing on the soulful "Wolves." It's pretty obvious how large West's influence is when he can gather an ensemble crew like this to make his new album.
With the relatively sudden release of the album, coupled with the fact that West didn't even have a concrete name for his album until days before its release, the album feels both complete and like a mess at the same time.
The tone sways back and forth, from West praising his love for God to dissing Taylor Swift and Ray J. This isn't even all that surprising, because that's who Kanye West is. But this isn't the same West who released "The College Dropout" almost 12 years ago. He even reflects on his career on the acapella track, "I Love Kanye." He's reached a point where he recognizes the different personas he's created over the years and has decided to stick to just one.
The album's emotional climax is in "FML," an ode to his wife. "Don't stop your loving, Don't stop for nothing … They don't wanna see me love you," a reference to all tabloids speculating on the fractured relationship of Kimye. West offers the contrasting view. The songs like "Father Stretch My Hands," "Famous" and "Facts" are reminiscent of the recent Kanye West, the man who earned a living spitting the most outrageous raps. The album is a mess and a masterpiece, much like West himself. "Name one genius that ain't crazy," he says on "Feedback." He would know, right?
"The Life of Pablo" also references the kind of artwork West wants to create: that of Pablo Picasso. The scholar Robert Stam noted, "Nothing so infuriates anti-modernist critics as the awareness that Picasso could have painted 'normal' portraits." West could produce "normal" music, but that's not he wants. "Normal" isn't what rocketed him to fame. There is nothing truly normal about "The Life of Pablo," and I'm grateful that's the way it is.
West was able to hype his album to the extreme and follow through on his promises. He created an album that encompasses his career, his aspirations, his faith and his love. All he did was take this and add a little West flair.
Album: "The Life of Pablo"
Artist: Kanye West
Release Date: Feb. 14
Rating ★★★★½