Local broadcasting legend Les Levine passes away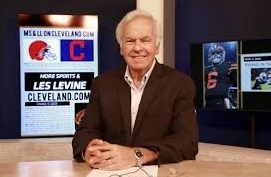 Longtime and beloved Cleveland sports broadcaster Les Levine passed away in early February at the age of 74. The news of the sports icon's passing was announced by his daughter. She relayed that he had succumbed to diabetes and Parkinson's disease after being hospitalized for several weeks in January.
A Cleveland native, Levine graduated from the Ohio State University with a degree in political science. He was a certified teacher and worked at an elementary school for a short while. However, his life dream had always been to become a sportscaster. Levine enrolled in broadcasting school and began working as a DJ at a radio station, later calling the play-by-play for various Indiana high school sports teams.
His professional radio career eventually burst ahead in 1971 with Akron's WNIR in Northeast Ohio, where he did play-by-play coverage and worked as the sales manager.
Levine called Kent State University basketball and football games from 1974 to 1979 and spent another 22 years calling basketball games for Cleveland State University. Over this period, Levine slowly found his niche as a call-in show host. By the 1990s, Levine established his own talk show with its classic title: "More Sports & Les Levine."
Levine quickly became a recognizable voice on the sports scene and was cherished by fans throughout the city. He was the self-proclaimed "voice of truth and reason" for analyzing Cleveland's sports teams and covered pregame and postgame shows for the Cleveland Browns, Indians and Cavaliers. On his radio show, he regularly engaged with fans, staying connected with people in the Cleveland community. In 1996, Levine's "More Sports" radio show transitioned to cable television on the sports channel, eventually landing in its current spot on Cleveland.com in 2019.
In total, Levine called play-by-play for more than 2,000 high school, college and professional sports games.
"Levine's sum total of all broadcast hours on TV and radio in 50 years is the most prolific output of anybody in the history of Northeast Ohio, and quite possibly the world," Levine's family said in a statement following his death.
Though Levine is mostly known for his radio and television presence, he also contributed to the sports world in other ways. Over the course of his career, he was vice president of the Greater Cleveland Sports Hall of Fame board of directors. Levine regularly wrote for the Cleveland Jewish News and his final piece, published on New Year's Eve, covered the Cleveland Browns' loss to the New York Jets in late December.
Additionally, Levine earned many honors for his work in the broadcasting community. He was inducted into the Jewish Community Center Softball Hall of Fame, the Radio & Television Broadcasters Hall of Fame in Ohio in 2006, the Greater Cleveland Slo-Pitch Softball Hall of Fame in 2011 and received the 2019 Excellence in Broadcasting Award for Radio from the Cleveland Association of Broadcasters.  
"Known for his quick wit, strong opinions and fantastic sense of humor, Les Levine was a trailblazing multimedia juggernaut on radio, TV, in print and on the internet," his family said. "In the early 1980s, Les was the first radio personality to invite local team beat writers and columnists on air to share their opinion—unheard of prior and now commonplace in today's multimedia world."
Sports fans all around Cleveland, and across Ohio, will always remember the passionate, humble and enthusiastic Les Levine that became a household name. His presence in the sports realm will be missed.