Louis Stark joins Case Western Reserve University as new VP for Student Affairs
Following in the footsteps of the recently retired Glenn Nichols, who left Case Western Reserve after 26 years of service, new Vice President for Student Affairs Louis Stark will soon embark on his first semester at the university.
A Long Island native, Stark attended Davis and Elkins College in West Virginia before serving at seven prestigious universities.
He draws experience from time spent at Washington University of St. Louis, a Case Western Reserve athletic rival, as well as the University of Rochester and Tulane University. Stark most recently led the student affairs operation at Coe College in Cedar Rapids, Iowa.
Stark's experience in student-centered programming is all-encompassing, with appointments at previous institutions in Greek life, admissions, financial aid, student advising, leadership development and judicial affairs.
Upon the announcement of Nicholl's retirement last year, a search committee was convened to find the appropriate fit for Case Western Reserve. The committee, which was led by Vice President for Enrollment Management Rick Bischoff, considered 60 candidates, continually sought student feedback and held on-campus interview sessions with the finalists.
Stark entered his new role July 1, but he is not the only staffing change to affect the Division of Student Affairs since spring. Over the summer, Alma Sealine, director of housing, left Case Western Reserve for the University of Illinois at Urbana-Champaign while Mayo Bulloch, director of educational enhancement programs and chair of the Share the Vision Committee, retired.
Watch The Observer in the coming weeks for more information about the Division of Student Affair's new direction and an in-depth interview with the new vice president.
About the Writer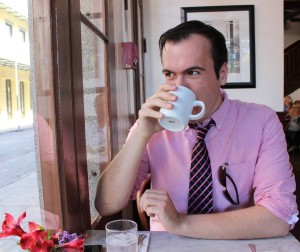 Tyler Hoffman, Executive Editor & Publisher
.
Fourth-year medical anthropology student Tyler Hoffman has served as Executive Editor and Publisher of The Observer since April 2012. As Executive...