"Love and Information": a tribute to the daily lives of CWRU students
For this year's Welcome Back Show, the Case Western Reserve University Department of Theater is staging a production of Caryl Churchill's "Love and Information" at the Black Box at the Eldred Theater on this Friday, Sept. 2, and the following Sunday. The play, directed by fourth-year student Merit Glover, is a collection of many short scenes depicting the everyday interactions of dozens of characters.
According to Glover, the show is "a chance to demonstrate to incoming students a show of the type that they can be excited to work on in college, as well as a chance to celebrate the work of the students who are already active in the on-campus theater community."
"Love and Information" will be Glover's final directing project in the Black Box; she has previously directed productions like "Kaleidoscope" by Ray Bradbury and Sophocles' "Elektra," as translated by Ezra Pound. For this milestone, she wanted to do something different.
This will not be a fantastical show, but rather one that aims to be deeply personal for CWRU students. It covers a broad range of topics over its many scenes, and should have something for everyone.
After being in rehearsal for the past two weeks, the cast and crew have had the chance to get a feel for the play.
In regards to its structure, second-year cast member Tatjana Vujovic said, "This show is the first show in which I am on stage the entire performance from pre-show to the last scene. I've never done this before, and it's interesting to know that the audience could be watching me at any moment, regardless of if I'm in the current scene or not."
Audience members should pay attention to what characters on stage are doing when they are not in the current scene, as they will get to experience small interactions that feel personal and familiar. Additionally, Vujovic hopes that this show "will allow for the audience to have a reflective and insightful experience" that will carry over to future shows this semester.
Another cast member, second-year student Tony Monczewski, also hopes that the audiences will be able to connect to the show.
"I really hope that everyone who comes to the show can find something personal to them in one or more of the stories on stage," he wrote in an email. "It's comforting to know that we are not alone with the problems, stresses, thoughts and joys we all experience. I think the stories in 'Love & Information' do just that, and my hope is that students find comfort in the stories and struggles of the show's characters.
"Love and Information" is not a show to be missed. It will leave you with a curious mix of emotions, pondering every interaction you've had with your friends and fellow classmates at CWRU—in the best way possible.
Show: "Love and Information"
When: Sept. 1 and 3 at 7 p.m.
Where: The Black Box at Eldred Theater
Price: Free
About the Writer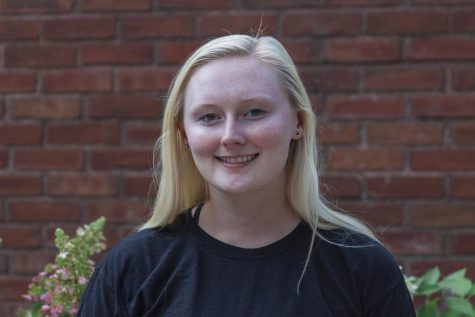 Max McPheeters, Staff Reporter
Max is a third-year mathematics major with minors in studio art and computer science. If they're not copy editing or writing for the Arts & Entertainment...