"Love is never a waste of time"
Sam Smith's "Thrill of It All"
Sam Smith's "The Thrill of It All" debuted at No. 1 on the Billboard 200 Albums Chart, his first album to do so. So maybe the world doesn't need to hear anyone say how incredible Smith's vocals are, how his lyrics are an emotional punch to the gut or how he has made leaps and bounds in production of tracks from his previous album. But here I am, telling you in 600 or so words that the "The Thrill of It All" is everything you could want it be, and yet it still managed to surprise me.
Smith eases you into the next 35:38 of his emotional rollercoaster with his previously-released single, "Too Good at Goodbyes," a song that for some reason I can't listen to without getting it stuck in my head. It slowly builds from isolated vocals into the triumphant chorus, having you scream along with him that you, like Smith, can't be hurt anymore.
Next is "Say It First," an actual happy love song. And after that is one of my absolute favorite tracks on the album, "One Last Song," a jazzy band track with a backup chorus. So far, so good, and it's at this point I gave myself up to the album, leaving my reservations behind. Smith actually continues with the band and backup chorus in "Baby, You Make Me Crazy," another favorite of mine.
Not to have this review lead you astray, there are still plenty of crying songs if you want them, some of which are: "Burning," a piano and Sam Smith duet about missing someone; "Palace," a song about love never being a waste of time, "Nothing Left for You," which focuses on being emotionally drained; and "The Thrill of It All," which is about getting caught up in love. Even if you're not in that state of mind, they're still testaments to Smith's voice. Thankfully, many of these songs isolate his vocals for us to just listen in awe.
"HIM" made the whole album for me. When Smith's first album came out, most people wondered which woman his love songs were about. Smith has since come out publicly, but hearing him delve into the emotion of being publicly gay and coming out to the people closest to him makes this rawest track I've heard this year, and perhaps the rawest in a very long time.
To understand, just read some of the lyrics: "I hold my lover by the hand / I feel you staring when he is with me / How can I make you understand?" and "Don't you try and tell me that God doesn't care for us / It is him I love, it is him I love."
The album then leaves us with a word of advice: With all these feelings to sort through and deal with, just deal with it all a day at a time. "One Day At A Time" feels like closure, perfectly encapsulating the entire album: "We're neither saints or sinners / So leave your history behind / Let's grab a bottle and take it one day at a time."
Smith's sophomore release is his best work and deserves its accomplishment of number one. It does what music does best: it makes you feel and relate. There is no song that doesn't hit the mark, and any one of them could be a favorite. If I haven't convinced you that "The Thrill Of It All" is raw emotion (and way more than just sadness) plus Smith's angelic voice, just listen to it yourself.
Artist: Sam Smith
Release: Nov. 3
Album: The Thrill of It All
Rating: 4.5/5
Leave a Comment
About the Writer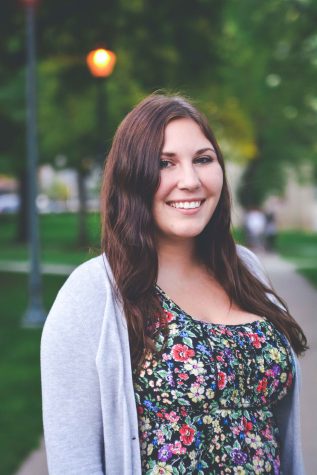 Alex Clarke, Arts & Entertainment Editor
Alex Clarke is a senior with majors in english and psychology and a minor in marketing. She also writes for Trill Mag, wrote for McClatchy newspapers for...