Luck shocks the football world
Why more players should follow his example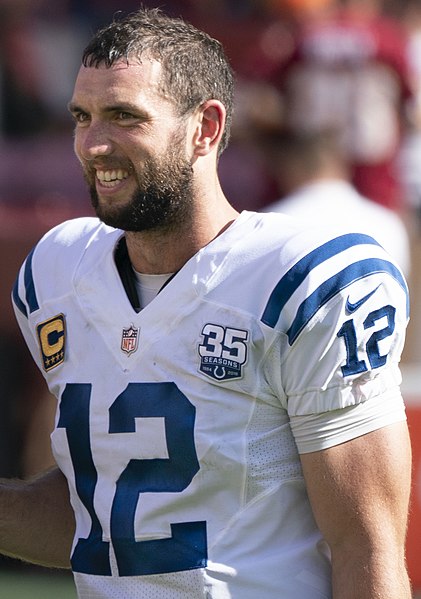 On Saturday night, while my roommate and I were watching the first college football game of the season on ESPN, the red "Breaking News" sign flashed across the bottom of the screen with a sentence that flipped the football world on its head:
Andrew Luck has retired from the NFL. 
We made eye contact and simultaneously yelled, "What?" 
It might have been the most shocking retirement the league has ever seen. One of the best quarterbacks to ever play the game, who had a legitimate shot to compete for a Super Bowl, decided to walk away from the game in the middle of the preseason. It left many scratching their heads, while Colts fans booed their former franchise quarterback. 
Luck has dealt with a plethora of injuries the last few years. He did not play at all in the 2017 season due to a labrum tear and has also previously had torn cartilage in his ribs, a lacerated kidney and a concussion. Recently, he has been battling a calf and ankle injury. In total, Luck has missed 26 games since 2015.
However, the Colts star returned from his labrum tear in 2018 to win NFL Comeback Player of the Year after throwing for 4,600 yards and 39 touchdowns. Obviously, despite the injuries, Luck performed at the highest level.
Luck told reporters on Saturday night that the mental toll of constantly rehabbing and dealing with the pain had just become too much to handle. Still, it was an extremely difficult decision to walk away from his team. 
The abrupt decision raises the question, again, of the dangerous nature of football and the impact the game has on players' long-term health. When a star like Luck leaves the NFL in his prime, it reminds us all just how dangerous football actually is. Recently, brain injuries have dominated the news cycle off the field, with players like Chris Borland retiring very early in their careers. 
But the majority of Luck's injuries have not been head related, which is why his decision has confused many sports fans. He is defying the status quo that injuries are a normal part of the game and should be fought through.
While Luck has raised a huge controversy among those involved in the league, the Stanford University product needs to be praised for his decision. It takes great courage, heart and confidence to walk away from millions of dollars and face the immense backlash that comes with retiring early. More importantly, Luck is saving his body from further breakdown and rescuing his mind from the stress, anxiety and depression associated with constantly dealing with pain. He will definitely appreciate his decision more in the decades to come.
More players should follow Luck's example and put current and future health higher on their priority list. The fact of football is that the physical toil caused by a decade in the league leads to a lifetime of pain for many players. For those with the financial security to do so, they should consider their families and their health, and retire earlier than what they originally planned. Luck should be hailed as an example of someone who realized life is more than just football; living healthily and investing in the most important relationships at a younger age will sow benefits for players for years to come.
About the Contributor
Andrew Ford, Staff Reporter
Andrew is a second-year student majoring in political science and economics. As is easily inferred, he enjoys sports, politics and money. In his free time,...