Macbeth brings medieval politics to the modern era
This Friday and Saturday, the Players' Theatre Group is staging a production of William Shakespeare's "Macbeth" at the Black Box at the Eldred Theater. Directed by first-year Giuliana Conte, the play is a modern adaptation, with the political intrigue of modern federal U.S. politics highlighted by the Bard's words.
The production is PTG's third of the year; the first was Christopher Durang's "Baby with the Bathwater" and the second was Sophocles' "Elektra." According to Jonah Roth, president of PTG and stage manager for "Macbeth," the executive board of the organization selects the year's shows at the beginning of each semester based on the submissions of students who aspire to direct them.
Part of the reason why Conte's proposal was selected was because of concept she put forth, to bring a new angle to the iconic tragedy.
"'Macbeth' is a show that gives us a chance to work with a classic text, presents some great design and acting challenges and tells a really gripping story that you can do a lot with. This particular concept that Giuliana has come up with … is also a lot of fun and has led to some great conversations and discoveries in rehearsal," wrote Roth in an email.
Conte is not bothered by the Shakespearean intimidation that comes in hand with staging such a well-known play either. "The best way to approach any show is to just take it as is – don't think about any previous productions or audience expectations, or else you'll never do anything new," she said.
They don't really buy into the old theater superstitions associated with the Scottish Play. In theater, it's commonly believed that the play is cursed, and that saying its name – Macbeth – will bring disaster.
"We have elaborate code names with a secret cipher that must be recalculated before every run. If you use the wrong one, you're recast," joked Conte.
But regardless of old superstitions, Roth and Conte agreed that the best part of working on "Macbeth" was definitely the people, both cast and crew.
"We've got very talented actors and designers working on this production, and even the hardest days in rehearsal are a joy just because the people in the room are so excited about what they're working on," said Roth.
PTG has even made a Snapchat account for the production—@MacbethBTS—that would allow outsiders to get a glimpse of what happens during rehearsal and behind the scenes.
"Macbeth" is PTG's largest production of the year, with a 12-person cast and three shows, rather than the usual two.
Leave a Comment
About the Writer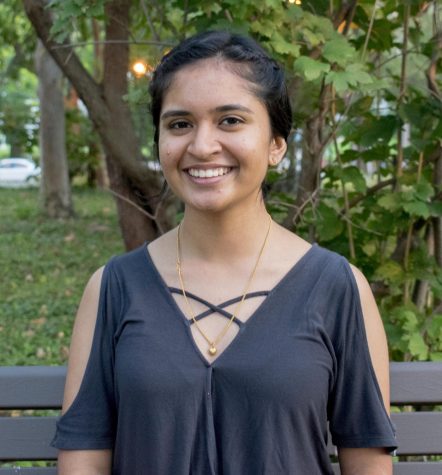 Smruthi Maganti, Arts and Entertainment Editor
Smruthi Maganti is a third-year student studying biology with a minor in public policy. After a year of copy editing, this is her first year as the A&E...