Journalist Maria Hinojosa speaks at Power of Diversity lecture series
Maria Hinojosa sat down on a table in the front of the room.
"I'm sorry if I'm a little casual," she said. "I like a smaller audience."
At the Oct. 6 Power of Diversity lecture series event, Hinojosa gave a talk titled "Frontlines: Latinos & Immigration" to a packed audience in the Jack, Joseph and Morton Mandel Community Studies Center. The event was presented by Alianza Latina/Latino Alliance and the Case Western Reserve University Office for Inclusion, Diversity and Equal Opportunity.
Though much of the audience consisted of CWRU students and staff, about a third of the crowd drove in from Oberlin College to see Hinojosa's talk. Everyone crammed into room 115, as a photographer squeezed around the edges of the room to flash shots of each speaker and the crowd. It was a little tight.
Before Hinojosa gave her talk, several speakers presented. Included was Lenore Pearlstein, the publisher of INSIGHT Into Diversity, a magazine for diversity in higher education. She presented CWRU President Barbara R. Snyder with the Higher Education Excellence in Diversity (HEED) award. This was the fourth consecutive year that CWRU received the award.
Snyder accepted the award and spoke of efforts on campus to encourage diversity and inclusivity.
"While it's wonderful to be standing up here, I like to say that we're all involved together, too," said Snyder.
As Snyder's speech ended, the crowd buzzed in anticipation of the main speaker.
Hinojosa's experience as a journalist is hefty: She is the anchor and reporter for PBS's "Need to Know" series, a producer of NPR's Latina USA show and creator of the Futuro Media Group. She has won Emmys for her work in television and national awards for excellence in journalism. Hinojosa is known for covering stories that other mainstream media sources tend to avoid.
At her talk, she couldn't stop telling these stories.
In the process of travelling around the United States, Hinojosa said proudly that she has covered the entire country in just a month. In Memphis, Tennessee, she explored the attempted Dream Act Legislation efforts. In Athens, Georgia, she spoke to high school students about immigration. In Orlando, Florida, she attended the National Association for Hispanic Journalists Conference. Then she flew to Seattle, Yakima, Canada, Newark and Chicago. Now Cleveland is added to her growing list.
She was only in the city for a short time, though; her car picked her up within 30 minutes of her talk to take her back to the airport. Hinojosa included as many tips and stories as she could in her short window of time.
"The mainstream media is less diverse than it was 20 years ago," Hinojosa said. "We can be respectfully angry—as a journalist, I have to be angry."
Hinojosa spoke about racist incidents that have occurred against Latin Americans, but also honed in on CWRU issues as well. She referenced racist Yik Yak comments which occurred last year, stating, "I am deeply saddened."
Currently Hinojosa believes that the U.S. as a whole is "having the least constructive conversation."
"We can lower that Confederate banner," she said, "but Mexicans? Eh."
Hinojosa isn't afraid to confront people she disagrees with, even on social media. She described responding to certain disagreements by calling commenters on the phone. "Then it gets, frankly, ugly," she said, laughing.
When recounting her experience as a reporter, Hinojosa repeated that she was never too afraid of a challenge.
In terms of Hinojosa's experience, she said, "I feel actually very hopeful … So much of what we do out there is not hopeful."
Leave a Comment
About the Writer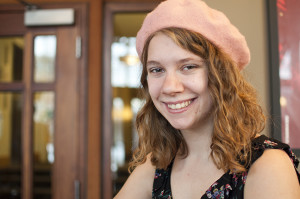 Anne Nickoloff, Director of Print
Anne Nickoloff, the Director of Print for The Observer, is a senior at Case Western. She hopes to one day be a music journalist, and has spent much of...