Middle Eastern Cultural Association Hafleh draws CWRU, Cleveland community
Ahlan wa sahlan: welcome.
On Friday, Nov. 20, adults, children and individuals of all cultures gathered in the Thwing Atrium to attend the Middle Eastern Cultural Association (MECA)'s annual Fall Hafleh, which benefitted the Mohammad Jamal Scholarship and Education Fund.
"Hafleh," meaning a "large, festive party" in Arabic, fit the atmosphere at the event, where guests mingled while enjoying Arab cuisine, music, language and dance and raising $650 for Jamal's scholarship fund. The fund was created by the Islamic Center of Cleveland following Jamal's death earlier this year and goes towards students' school fees, including Islamic studies and Quran memorization programs.
Proceeds from MECA's haflehs are typically donated each year to a charity in the Middle East, such as the Palestinian Children's Relief Fund, which provides medical assistance to Palestinian and Syrian children in need.
"Oftentimes, the Middle East is thought of a as a dangerous area, especially after recent events with terrorism worldwide," said fourth-year student Nabila Azeem, MECA's president. "We're trying to change the perspective and have people see the beauty of our culture."
At the event, guests were encouraged to try and experience the rich Arab culture.
"The food was awesome," said first-year CWRU student Akinola Akinbote. "It was amazing to realize that we had a significant Middle Eastern community at Case. Not just a significant one, but a group willing to share their culture with others."
As guests settled and enjoyed their food, members of MECA Ashtar Abboud, Aya Bahij and Andrea Lau performed a dabke dance, an Arab fold circle dance.
"I remember trying to dance with them," said Akinbote. "I usually think of myself as an okay dancer, but that evening, doing the leg work they did was no joke. It required so much coordination and skill, but I did enjoy it."
The hafleh attracted not only CWRU students, but students from Cleveland State University and other members in the Cleveland community, including members of Jamal's family. It was a night of connecting across cultures.
About the Writer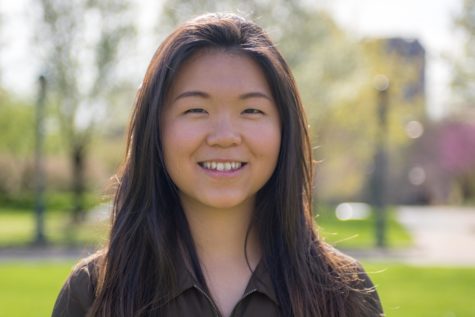 Ashley Chan, Director of Web & Multimedia
Ashley Chan is a second-year student studying economics. Ashley likes to lift. If you wish to contact her, you can email her at axc627@case.edu.