Megabus eliminates some services in Cleveland
Megabus eliminates some services in Cleveland
As a result of low gas prices, Megabus has cut services which offered rides from Cleveland to Columbus and Cincinnati.
In an interview with cleveland.com, Sean Hughes, the director of corporate affairs for Megabus North America, said, "It wasn't performing to expectations … We had to make a change."
Megabus has previously decreased Cleveland rides to out-of-state locations, such as Pittsburgh, as well.
Local comedian added as Plain Dealer columnist
Local comedian Mike Polk Jr., most well-known for his viral Youtube video titled "HASTILY MADE CLEVELAND TOURISM VIDEO," has been hired on at the Plain Dealer in order to attract younger readers.
This comes with several other changes to the paper, including shrinking the physical paper itself by one inch and adding another page to the Diversions section.
Polk's first column, where he introduced readers to the modern world of journalism, ran Jan. 31.
Details on high-rise apartments behind the Triangle released
Though the announcement of building high-rise apartments in the parking lot behind the Triangle Apartments happened a few years ago, new details about the project have just been released.
The project will break ground in the spring, and the building will be seven stories tall, with retail on the ground floor and parking. Unlike many other apartment complexes in the University Circle area, the apartments in the Centric building will be focused to appeal primarily to upperclassman students. Half of the offered living spaces will be one-bedroom micro-apartments, while the remainder will be studios and two-bedroom apartments.
The project is not a Case Western Reserve University development.
Cleveland mayor proposes income tax of 2.5 percent
After over 30 years of a steady income tax, Mayor Frank Jackson proposed raising the current income tax of two percent to 2.5 percent. This comes in anticipation of a projected deficit for next year.
The tax increase would raise more than $80 million for the city.
Only Cleveland residents can vote on the issue, despite the fact that the majority of people affected by the hike can not vote because they live outside of city limits
About the Writer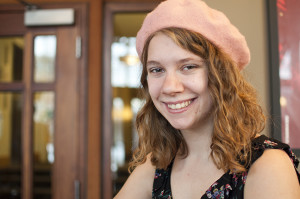 Anne Nickoloff, Director of Print
Anne Nickoloff, the Director of Print for The Observer, is a senior at Case Western. She hopes to one day be a music journalist, and has spent much of...