Men's Cross Country demonstrates depth while at Allegheny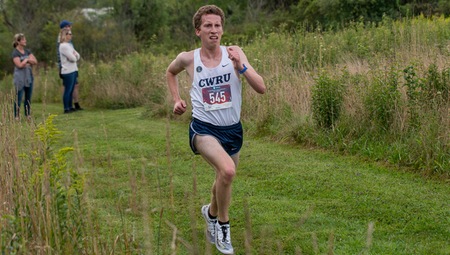 Coming off an outstanding third-place finish at the Calvin Invitational, the Case Western Reserve University Men's cross country team traveled to Allegheny College for the Allegheny Cross Country Classic last weekend, and registered another third-place finish. This is especially impressive considering the top eight performers at Calvin did not compete in this week's race, and instead competed in the Varsity race at Allegheny.
The squad was led by second-year all-star performer Rahul Mikkilineni. Mikkilineni placed 20th overall, with a time of 22:27. Close behind Mikkilineni was third-year runner Daniel Grasing with a time of 22:30, finishing 23rd. Finishing two places behind Grasing was second-year Ben Browngardt, running a 22:41 for the four-mile course. Rounding out the scorers for the Spartan men were first-years Jacob Conard and Will Dehmler with times of 23:00 and 23:14 and second-year runners Maxwell Griesheimer and Bryden Moxley earning times of 23:03 and 23:34 respectively.
The overall spread for the men's team was an incredible 36 seconds. This spread demonstrates the amount of skill the men's roster has this year. To travel to an invitational and place so high without the usual scorers with a 1-5 spread of nearly 30 seconds is an impressive feat.
The latest regional and national rankings have been released for the 2019-2020 season, with the Spartan runners falling from third to fourth after placing behind John Carroll University at the Calvin Invitational. John Carroll jumped two spots, moving from fifth to third, while Trine College successfully moved into the top five after defeating DePauw University at Calvin. DePauw moved from fourth to sixth, proof of how competitive the Great Lakes Region is.
Last year, the men's team placed fourth in the region, but still secured an at-large bid to compete in the national meet. This proved to be justified when the Spartans finished a historic 21st at the NCAA National meet in Winneconne, WI. It would be best for the Spartans to play it safe and try their hardest to finish top three in the region and get the automatic team qualification to Nationals.
While the Spartans have the ability to compete with powerhouses such as Calvin and Otterbein (first and second in the region) in the championship season, it is crucial to solidify their position early on so if the need arises, CWRU is set for an at-large bid based on their performance throughout the season. For the national rankings, CWRU men's dropped a staggering 10 places, from 19th to 29th. This may balance out after the All-Ohio race, where the Spartans have a chance to go head to head with the Cardinals and other highly ranked teams, but it is disheartening.
The teams will be off next weekend, before taking part in the All-Ohio Championships in Cedarville, OH on Saturday, Sept. 28.