Men's soccer begins wrapping up season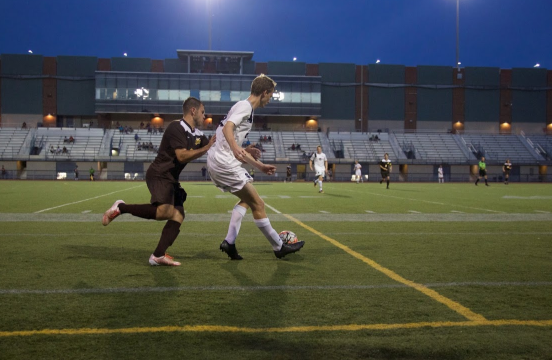 The Spartans had a rough weekend, but not all was lost. The Case Western Reserve University men's soccer team scored one goal in two matches, resulting in a draw and a loss. The first match against the University of Chicago Maroons on Friday, Oct. 28, ended after two overtimes. The second match was also at home against the Washington University in St. Louis Bears, to whom the Spartans lost on Sunday, Oct. 30. The team has struggled throughout the season, notching only five wins in 17 games thus far.
Against the Maroons, the two teams remained scoreless throughout the entire event. Each team got off several shots that looked good, but both teams' keepers did their job to perfection, leaving their respective team's hopes alive until the very end.
After all was said and done, the Maroons had led the Spartans 9-2 in shots on goal but also had five more fouls than CWRU. Chicago's lead in shots, both on goal and not, did not give them any special edge. Two overtimes after regulation and both teams remained scoreless and exhausted. This draw was the penultimate home match of the season and the third-to-last match for the year.
The draw could be counted as a success for the Spartans. The Maroons, coming into the match as the No. 1 team in the country, had not lost or tied all season. It was a streak that lasted 15 matches until the Spartans finally put an end to it.
To complete the Spartans' home season, the Bears came to DiSanto Field.
Just under 35 minutes into the match, Bears' fourth-year player Kevin Goon scored the first goal of the game, with the assist going to second-year student Ben Strozewski. With the team still up 1-0 48 minutes into regulation, second-year student Ryan Sproule doubled his team's lead with a header that came off of a cross from fourth-year student Grant Baltes.
The score remained at 2-0 until nearly the end of the match. With just about seven minutes left in regulation to go, fourth-year defenseman Zach Broujos finally scored for the Spartans. Broujos lasered in a shot from about 20 yards, scoring his first goal of the season. Even with this late goal, the match still ended as a 2-1 win for the Bears.
The Spartans will play their final match for the year against Carnegie Mellon University in Pittsburgh, Pennsylvania on Nov. 5th. A final win to send off this year's graduating members and to end the season on a good note would be welcome. Keep rooting for your men's soccer team, because time is running out to do so.