Men's tennis bounces back 7-0 against Findlay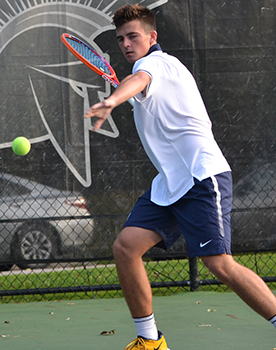 On a beautiful Friday afternoon in Findlay, Ohio, the Case Western Reserve University men's tennis team dominated their match against the Division II University of Findlay, tallying a perfect score of 7-0 and improving to a 6-2 record overall. Replicating their performance against Findlay in their season opener on March 14, the Spartans started out strong in doubles and maintained their grip on the match through singles.
In first doubles, second-year James Hopper and fourth-year Matthew Chen defeated Findlay's Jorge Barnuevo and Alfredo Berlanga 6-2. Third-year Chaitanya Aduru and fourth-year Neil Mabee followed up with a crushing 6-0 win against Octavio Carrasco and Florian Bauer in second doubles. Fourth-years Anthony Kanam and Jonathan Powell rounded out the doubles matches with a solid 6-3 victory against Andrew Codita and Mark Ivanov. The doubles sweep gave the Spartans a 1-0 lead heading into the singles.
Hopper started off the singles matches facing Barnuevo and defeating him 6-3, 6-2 in the first singles competition. First-year Vishwa Aduru scraped out a tight win over Bauer in second singles with scores of 7-6 and 6-4. Chen overcame a loss in the first set to defeat Berlanga 6-7, 6-3, 10-6 in third singles. Chaitanya Aduru came out victorious against Codita in fourth singles, beating him 6-1, 6-1. Finishing off the match, Powell won 6-2, 6-2 against Carrasco in fifth singles while Kanam staved off Ivanov 7-5, 6-2 in sixth singles.
The emphatic win was a fantastic way for the team to bounce back after a close 4-3 loss against Cleveland State University on April 3.
"I thought we played really well against Findlay," first-year Vishwa Aduru said. "I thought we brought great energy starting with the doubles which carried into the singles as well. Some of our guys, including me, didn't get off to a great start in the singles, but [we] did a great job of staying with it and believing we could find a way to get the win."
Second-year Hopper, who has gone undefeated so far in his singles and doubles matches this season, was impressed by the resiliency and grit the team showed in the more competitive singles matches.
"The previous weekend we didn't have any matches, so we were playing against each other and working on various things, one of them being our match toughness. On a couple of the courts for singles, there were some tight matches and I think all of the guys did a good job of stepping up at the big moments and getting the job done," said Hopper.
As with all sports teams and other organizations around campus, the experience for the men's tennis team this season has not been business as usual. No spectators were allowed in the first four matches of the season, some matches were cancelled and all players have been wearing masks while practicing and playing indoors and outdoors. Hopper felt that the lack of matches in the fall affected the team's development moving into the spring season.
"I feel like the fall serves as great preparation for the spring in providing plenty of match play, which is something that is difficult to replicate in practice. We were competing hard against each other throughout the fall, [but it] does not have the same atmosphere when playing against other schools," said Hopper.
Vishwa Aduru, who has also had a strong start to his college tennis career with a 4-2 record in singles, reflected on the difficulty of adjusting to college play during a pandemic, saying that "It's definitely a big change … The biggest difference I would say is the intensity of the matches is completely different in college-level play since you're playing for more than just yourself, as you are a part of a team … There are [also] no easy matches at the college level. Every victory is hard-earned, as your opponent wants to win it for their team just as much as you want to win it for yours."
The Spartans will play a doubleheader against Oberlin College on Saturday, April 24 at 10 a.m. in Oberlin, Ohio. Before then, the players feel they have some areas of their game hone and refine.
"For me, I am trying to focus on being more aggressive and dictating play with my shots in addition to working on my physical fitness," Vishwa Aduru remarked. "As a team, I think we are doing all the right things and as we get more matches in, our level of play and match toughness will only increase. Even though we had a couple tough losses this season, I think that our progress since the beginning of the season is definitely evident … There are still more ways we can improve."
Following the doubleheader against Oberlin, the Spartans will finish off their 2021 spring season with a doubleheader at home against the College of Wooster on Sunday, April 25. The match will also begin at 10 a.m.