Men's volleyball concludes season in Pennsylvania tournament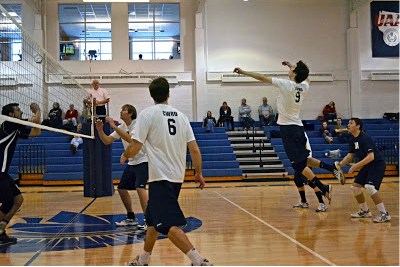 The Case Volleyball Club men's team competed in the Pennsylvania-Ohio Volleyball League Championships this past weekend. Coming off a perfect 9-0 season of conference play, our Spartan men landed a first seed for the pool play on Saturday.
After making a two-hour voyage to the courts in the morning, the squad had a rough start, splitting a game 1-1 with Carnegie Mellon University (CMU). Junior rightside hitter Thomas Pech commented, "It was our first game of the day, and a lot of the guys were tired. We played down and got what we deserved."
That single loss against CMU came back to haunt Case Western Reserve University in the end of pool play. In their final match of the morning against Genesee Community College (GCC) in New York, our Spartans fought hard in two exciting sets. An initial win of 25-20 gave them a shot of landing a first seed in the playoffs. Junior outside hitter Ricardo Baco had an amazing game, racking up seven kills and two blocks. However GCC came back strong in the second set and beat the men in an intense 27-29 set.
Coming out of pool play with a second seed, CWRU went up against Geneva College to place into the semifinals bracket. Again our men had a rough start, giving up a 9-1 run in the opening of the first set. In this game, freshman middle hitter Noah Staton came out of a slump and made some big plays, scoring four kills and four blocks. CWRU proceeded to lose both sets 18-25 and 25-27, ending their playoff run there. Geneva went on to victory, placing first overall in the tournament.
Despite having a perfect season, this tournament shows the conditional nature of volleyball. Sophomore middle hitter Greg Beery made a huge difference this weekend, having many big blocks and nasty kills that kept his opponents in the dust. While our Spartan men conclude their season, they look towards next year when they plan on making a much bigger splash in the Pennsylvania-Ohio Volleyball League.
Leave a Comment