Milk Carton Kids take on Cleveland
Beachland's Cinco de Mayo celebration sells out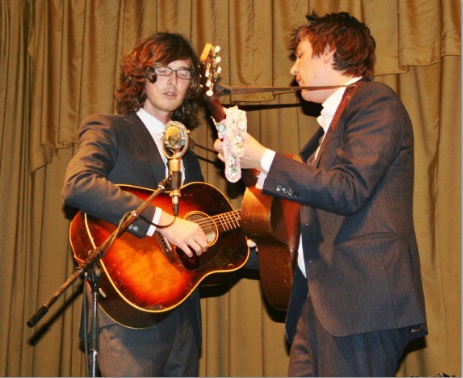 While most people broke out their sombreros and Corona beers, I celebrated Cinco de Mayo by listening to the blissful, flat-picking harmony duo known as the Milk Carton Kids at the Beachland Ballroom.
This sold out show was the sixth time the duo has performed at Beachland. Every seat was taken and the standing room was full.
The show started rolling with an anecdote by Joey Ryan of Milk Carton Kids who introduced the opener, Brian Wright, a Texas native who elegantly played traditional country music. Wright's simple music was filled with strummed guitar, reminiscent of Johnny Cash.
Wright's songs told stories.
A story about growing up in Texas near a local watering hole, near a cement building without windows and a painted red rooster on the walls. A story about trials with toddlers, a story about jukeboxes. As we all revisited his tales, the audience laughed and applauded.
Meanwhile, he rotated between two guitars and occasionally pulled out his harmonica, which he referred to as his "beard hair puller outer."
Closing out his set, Wright performed a classic song by Woody Guthrie. As folk filled the ballroom, most of the audience sang along with Wright.
After intermission, Kenneth Pattengale and Ryan quietly walked onstage. The duo wore suits, and their classiness emanated from the stage as they picked up their guitars and turned to each other.
The Grammy-nominated pair from Eagle Rock, California formed in 2011 after Ryan attended a solo performance by Pattengale in their hometown. Their first album,"Retrospect," predates their band name and was released under their names.
After playing at South by Southwest music festival, the duo formed the Milk Carton Kids and in July of 2011 released their first studio album, "Prologue."
Ryan and Pattengale stood incredibly close to each other and sang in perfect harmony. Often I was unsure who was playing at any time. Onstage they are one person.
This modern-day Simon and Garfunkel folk duo continually played four songs in a row without stopping. Between the songs they continued with hilarious deadpan storytelling and banter, often with audience members who shouted to the stage.
As they played long instrumental solos I simply lost myself into the music, but I wasn't the only one. A nearby audience member loudly proclaimed "geez" as they nailed a lengthy, difficult guitar solo.
The most original song of the night was "Memoirs of an Owned Dog" which hilariously explored the life of a pet. One of their most popular songs, "Michigan" was nothing less than amazing with its well-crafted lyrics. Next to me, my friend gently whispered the lyrics, smiling until the song was finished.
One of the highlights of the evening was when Ryan explained that the band is trying to have fewer songs about places. A patron shouted "Cleveland," to which Ryan replied, "nothing good rhymes with Cleveland." The patron followed with "Believeland," which Ryan further reiterated "nothing good rhymes with Cleveland."
Almost all of Milk Carton Kids' upcoming shows are sold out.
The Milk Carton Kids played a long encore performance before receiving a standing ovation. Ryan kindly reminded patrons that all their music is free to download off their website.
With free-to-download music, it's never been easier to treat yourself to fantastically crafted American folk music.