Movie treats at Short. Sweet. Film Fest
Short. Sweet. Film Fest is perfect for those that either love film, love Cleveland or get bored easily. According to one of the Short. Sweet. Film Fest's film judges Dave St. Clair, you're "never committed to a two hour movie that sucks." Sign me up.
Mike Suglio, a Case Western Reserve University graduate, started this film festival as a local Cleveland filmmaker who wanted a chance to showcase his own films on a smaller scale (as compared to the Cleveland International Film Festival held annually) and thought other local filmmakers might have the same problem. That first year, 50 people showed up, but each year it has been growing with both attendance, film submissions, length (that is, the number of days—the films are still short) and variety of what's going on at the festival.
Coming close is Short. Sweet.'s fourth festival, and the estimated attendance has grown to the point where the location has moved to Metropolitan at the 9's Alex Theater. Metropolitan at the 9 was named top new hotel in Cleveland this year, and Suglio is really excited to be hosting the festival there.
This year there were 100 submissions of films under 20 minutes in the categories of fiction, non-fiction, animation, local, student and international. Sixty-four were chosen. Also, Suglio will be showing one of his own films, titled "A Tribute to the Fallen," for the first time at any of the festivals.
Some of the films that will be showed at the festival range from a documentary created by chicken farmers about the inhumanity of chicken factories ("Chicken Factory Farmer Speaks Out") to a fictional film about a guy approaching a girl at a bar ("Blush"), to a film about the return of Lebron James ("Welcome Home"). The film judge, Dave St. Clair, said that this may be the best year of submissions, calling the films "dynamite."
Some other differences between Short. Sweet. and other film festivals is that you aren't restricted to normal movie food (aka overpriced popcorn); there will be actual restaurant food and alcohol served. Also many of the filmmakers will be there to present their film and to answer questions about their process, inspiration, etc. On top of that, there are seven local bands playing (including some CWRU alumni) and local businesses. Even representatives from the Jolly Scholar will be there to announce future plans and changes.
Event: Short. Sweet. Film Fest
Location: Alex Theater; 2017 E. 9th St.
Date: April 10-12
Price: $15-40
Leave a Comment
About the Writer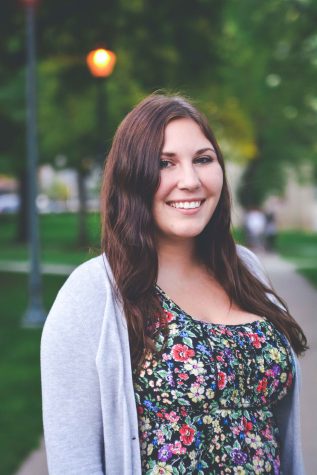 Alex Clarke, Arts & Entertainment Editor
Alex Clarke is a senior with majors in english and psychology and a minor in marketing. She also writes for Trill Mag, wrote for McClatchy newspapers for...