Music for Insomniacs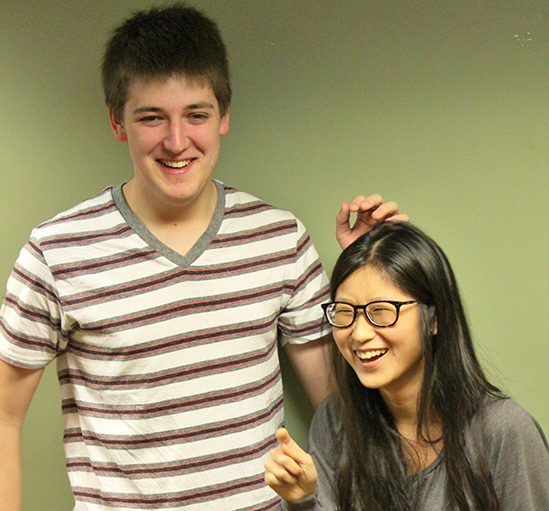 The campus is dead at 3:45 a.m., Sunday morning. Only an occasional rustle or distant bus screech breaks the eerie, frigid silence. Walking across campus is not only unnatural, but also frightening.
Inside the WRUW-FM 91.1 Cleveland studios, however, the hosts of Calculated Chaos are bustling through the halls in preparation for their program.
Preparing… that is, not leaving to sleep, not taking a break, not just stopping by. The hosts, two Case Western Reserve University freshman volunteers, have one of the most unfortunate time slots with a show that spans from 4:00 to 6:00 a.m. every Sunday.
On a day that most people use to catch up on sleep, these students have to be up at a time that dances the line between early morning and late night. "I complain about getting up," said co-host Jay Zhang, "but when I get here I always enjoy doing the show."
According to Zhang, she often does not even try to sleep before arriving at the studio, and will essentially pull an all-nighter every week.
Surprisingly, Calculated Chaos does not completely lack an audience despite its early hour, with song suggestions ringing up as they normally would at other time slots. "It's hard to get listeners at 4 a.m. on a Sunday, but we're still apparently getting them," said co-host Charlie Topel.
"We're definitely not one of the more listened-to shows," said Zhang. "Insomniacs listen to ours."
Music from the previous show, The Counselor's Cornucopia of Classic Rock & Curios, emanates throughout the musty-smelling basement. Zhang stoops and shuffles through countless rows of CD shelves, compiling a stack of select tunes for her and Topel's show.
After a full semester of shadowing underneath other WRUW programmers, Zhang and Topel know their ways around the station and can find the music they are searching for easily, despite the overwhelming amount of material available in the station. The WRUW training program is more extensive and rigorous than other schools', requiring seminar attendances, test taking, and practice being on-air.
"It's a really good opportunity so you're not making a mistake on your show," said Zhang. "Somebody's there to help you."
Calculated Chaos is a free-form show, typically dabbling in indie and experimental music. Last Sunday's playlist included songs from Beach House, The Decemberists, and Junior Boys. "College radio is good for music that's not as popular," said Zhang.
WRUW, known for its slogan of "More Music, Fewer Hits," is a nonprofit organization that rarely is allowed to play top songs. Officially, it is run as a CWRU student radio station, but many of WRUW's radio show hosts are volunteers from the community or graduates of CWRU. "Everyone's really passionate about their shows," said Zhang. "It doesn't just reach the bounds of our campus."
Zhang and Topel work well together when they are on the air, but that's not to say they are musically identical. While Zhang naturally gravitates towards indie rock, she claimed, "Charlie definitely brings diversity to the show."
Topel backed this statement, saying, "I don't like being trapped by the man."
The first song on their show, "Pursuit of Happiness (Nightmare)" by Kid Cudi feat. MGMT and Ratatat, was something Zhang personally knew Topel would not approve of.
"We have scarily similar musical tastes," said Topel, but later went on to say they "only argue about trivial stuff;" for example, when they "get into screaming matches about which [Death Cab for Cutie] album is better."
Zhang and Topel find new music for Calculated Chaos through different sources. "Like a typical hipster, Pitchfork is nice," Topel said, but he also uses the popular application Spotify to find new artists.
Calculated Chaos' two hosts are grateful to be paired together. "I like having a co-host; talking on-air is much easier that way," said Topel.
"That way we don't have two shows to babysit," agreed Zhang.
Their late time slot, given to them because of their bottom place as "Freshmen" on the CWRU class totem pole, will only get better from here. "It's worth it and that pain is going to go away," said Zhang, who plans on continuing the show with Topel in years to come.
Their show is definitely worth a listen – but that doesn't mean music enthusiasts need to wake up at four in the morning. Like all WRUW programs, Calculated Chaos's latest show is archived on the WRUW website for anyone to check out, but is revised weekly.