Natural History Museum unveils dinosaur exhibit
Last Monday, Feb. 19, a combination of the Presidents Day holiday and a new pterosaur exhibit, titled "Flight in the Age of Dinosaurs," brought crowds to the Cleveland Museum of Natural History. The new exhibit features skeletons, dioramas and interactive pterosaur flight simulators in an all-encompassing, child-oriented dinosaur extravaganza.
The pterosaur—pronounced "tear-oh-sore"—exhibit covers millions of years of flying reptile history, and opened Saturday, Feb. 17. Tom Pastijn, a museum member, brought his two sons, Leo and Max, along for the experience. He said the new exhibit was "absolutely the reason they came out."
Leo and Max both enjoyed "Flight in the Age of Dinosaurs" and pointed to the flight simulator as their favorite part.
All things considered, the interactive flight simulator, which gives museum-goers the opportunity to pretend to be a pterosaur, is the highlight of the exhibit. Double-sided screens showed flying dinosaurs, which contributed to some amusing confusion with a large contingent of small children. For instance, a line formed on the exterior of the dino-simulator control area due to a line of children who attempted to control the video projection from the wrong side of the wall. A group of amused parents and grandparents stood nearby, keeping an eye on their confused children and observing the less-interactive fossil displays and paleontology videos.
Matt Sparks also brought his two children to the museum because of the Presidents Day holiday. He said the day off was perfect for visiting museums, and while "Flight in the Age of Dinosaurs" was not necessarily the reason he brought his children to the Natural History Museum, they were, nonetheless, fans of the experience.
An anonymous museum employee described the Presidents Day holiday and new exhibit as "the perfect storm," due to its positive effect on the museum's attendance. The exhibit, which was organized by the American Museum of Natural History in New York, will remain at the Cleveland Museum of Natural History until Aug. 12.
Leave a Comment
About the Writer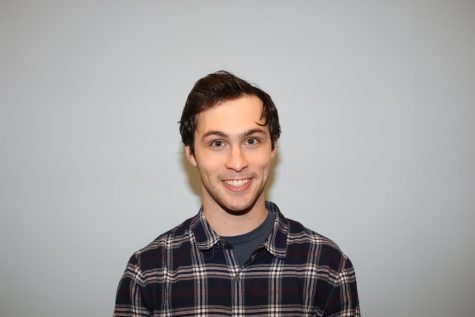 Henry Bendon, Staff Reporter
Henry Bendon is a fourth-year political science major who has been writing and taking photos for the Observer since the fall of 2016. In his time with...