New dorms in South Residential Village to house 600 more students by fall 2024
The population of Case Western Reserve University is growing due to President Eric Kaler's push to increase enrollment over the next few years. With these plans, the need for new housing for students has become more urgent, in light of the recent housing saga, in which CWRU announced that the administration would no longer be able to guarantee housing for all undergraduate students, only to reverse course after massive student backlash. To accommodate the growing student population, CWRU will build two new residence halls in the South Residential Village (SRV) that together will house 600 additional students.
The residence halls, which have been nicknamed "Murray" and "Hill" for the time being, will be at the intersection of Murray Hill Road and Adelbert Road, adjoining the newly renovated Fribley Commons. The two new buildings, along with a green space in between, will be constructed on top of current Parking Lot 5. This will eliminate 174 parking spaces but the university has stated that they are conducting studies on alleviating parking pressure in the neighborhood. The planning stages for the residence halls are nearly complete and the university has begun presenting their designs to the Little Italy community and the city of Cleveland for approval. Construction will likely begin in August 2022 and wrap up by July 2024, with the residence halls being ready for move-in by the fall 2024 semester.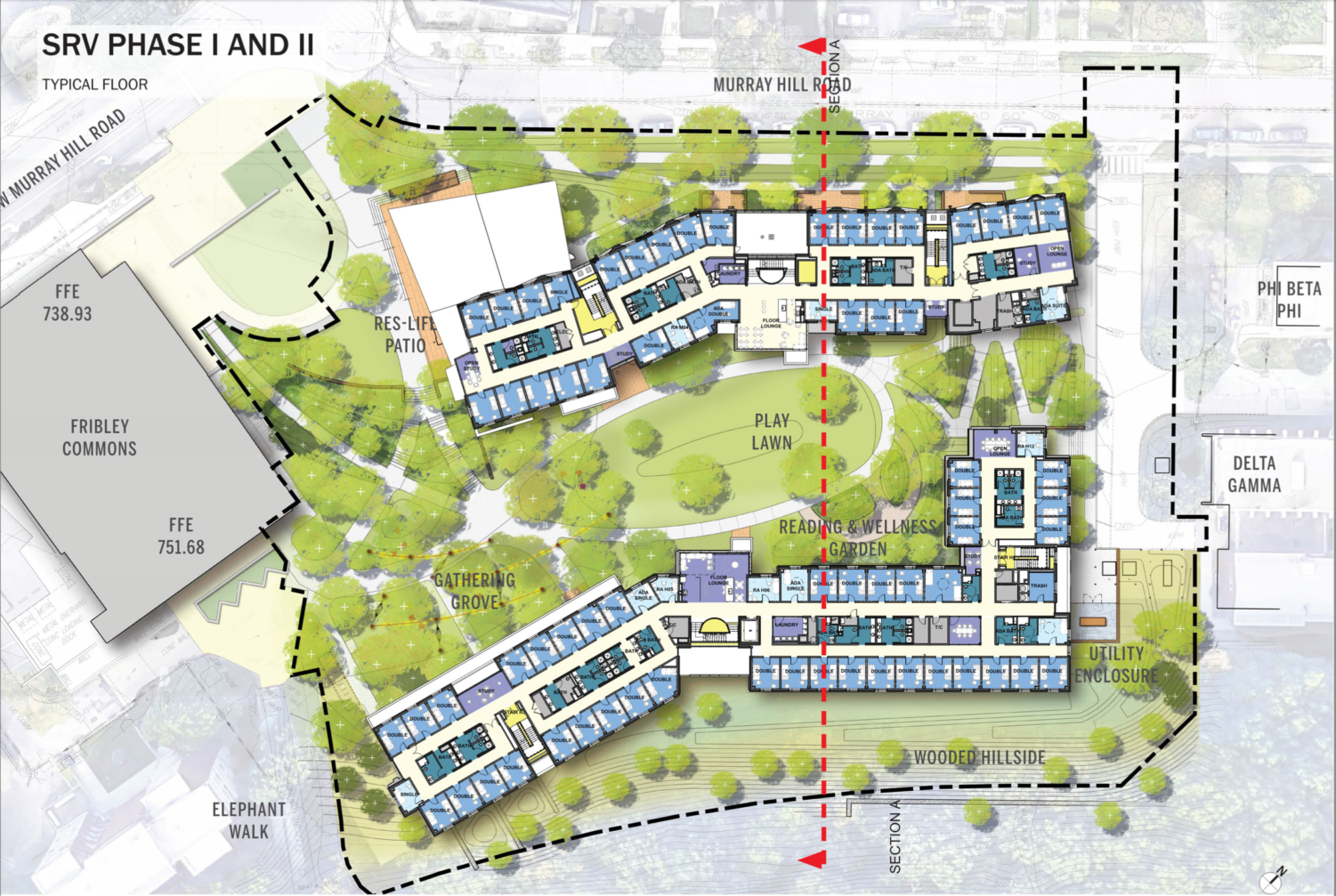 The dorms were originally planned to be constructed in 2020, with the current plan being relatively unchanged from that time, but were put on hold due to the COVID-19 pandemic and the resulting shutdowns and supply chain issues. However, the renovations of Fribley Commons went ahead regardless due to contractual obligations, with that renovation being completed in summer 2021. Original costs for the new dorms were estimated to be around $80 million, but due to inflationary pressures and the increase of building material costs, that number has increased to a current estimated total of $110 million.
The architects, William Rawn Associates, are not based in the Cleveland area but were chosen from a shortlist of six firms due to their work on other college campuses including Duke University and Harvard University.
"[William Rawn] has an elegant style and they're very inclusive in their process, which we liked about them. That was one of the things that resonated well; they were very engaging, and they listened," Interim Vice President for Campus Planning and Facilities Management Christopher Panichi said. "We wanted a firm that would listen to us and design the building for us."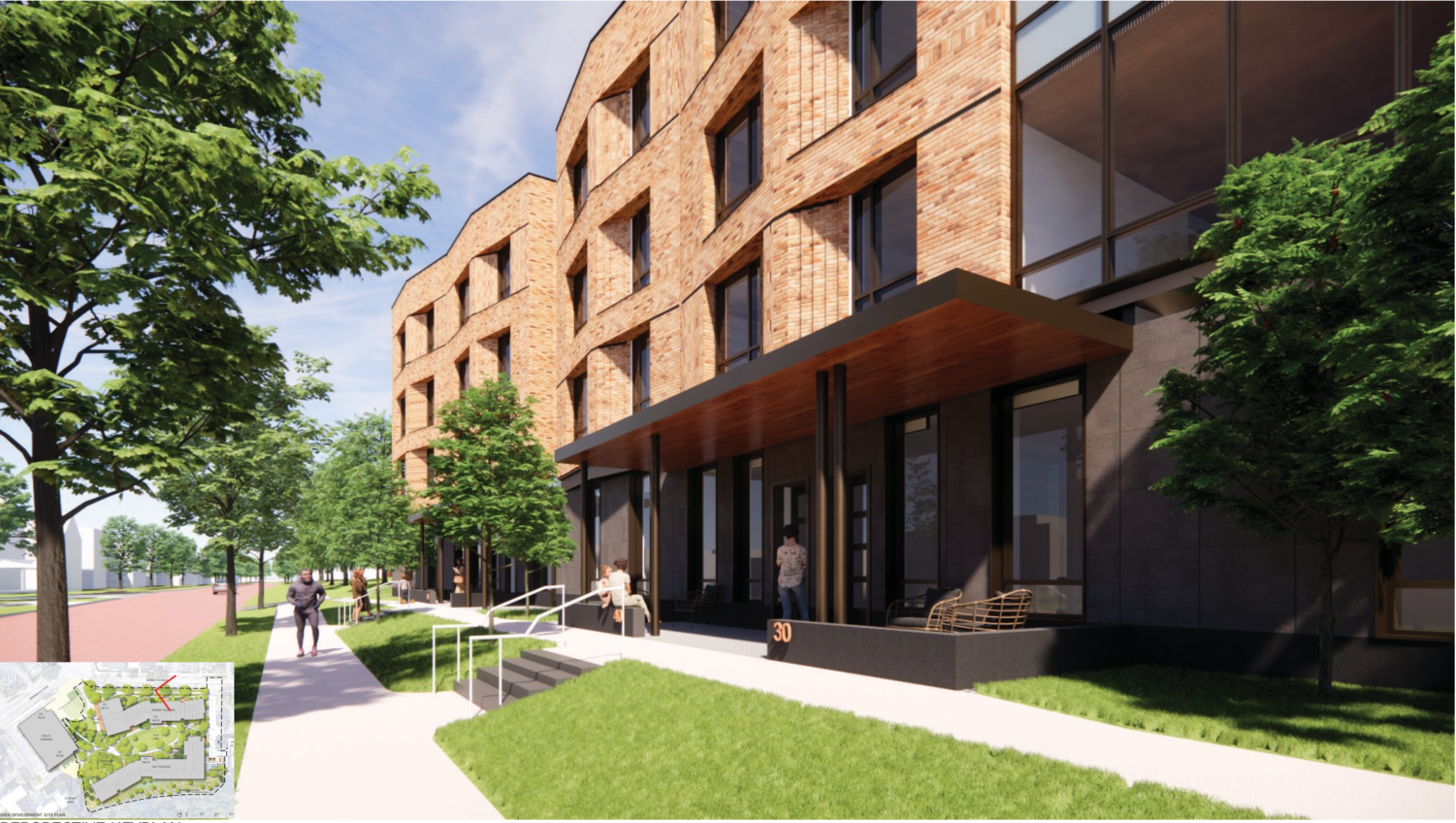 The buildings' facade is mostly a blend of brick, granite and glass, in a modern re-interpretation of Little Italy's current aesthetic, especially with Murray Hill Road itself being made of brick. The residence halls will be four stories tall, with each floor including either apartments for residential assistants (RAs) or dorm rooms. The rooms themselves will be "corridor style," consisting of mostly doubles, although there will be a few singles also available.
"We want students to get out of their rooms," Panichi said, when asked about the decision to use a "corridor style" versus the "suite style" of dorms that currently dominate SRV—where six individual bedrooms are put together into a single suite. Panichi also noted that four different furniture manufacturers are currently being brought in to test different styles, with student groups touring the model setups for their impressions.
Other features include communal restrooms, open study areas and floor lounges. As with the rest of the SRV, the residence halls are to be used by second-year students, though plans could change depending on proportions of campus population. Along with housing, the residence halls also include a large, glass-enclosed multipurpose room, with a 100-student capacity, though it can also be split.
"We met with students and what they said is that they wanted a space on the Southside where they can go, and also have large meetings," Panichi said. "With this you'll be able to do that."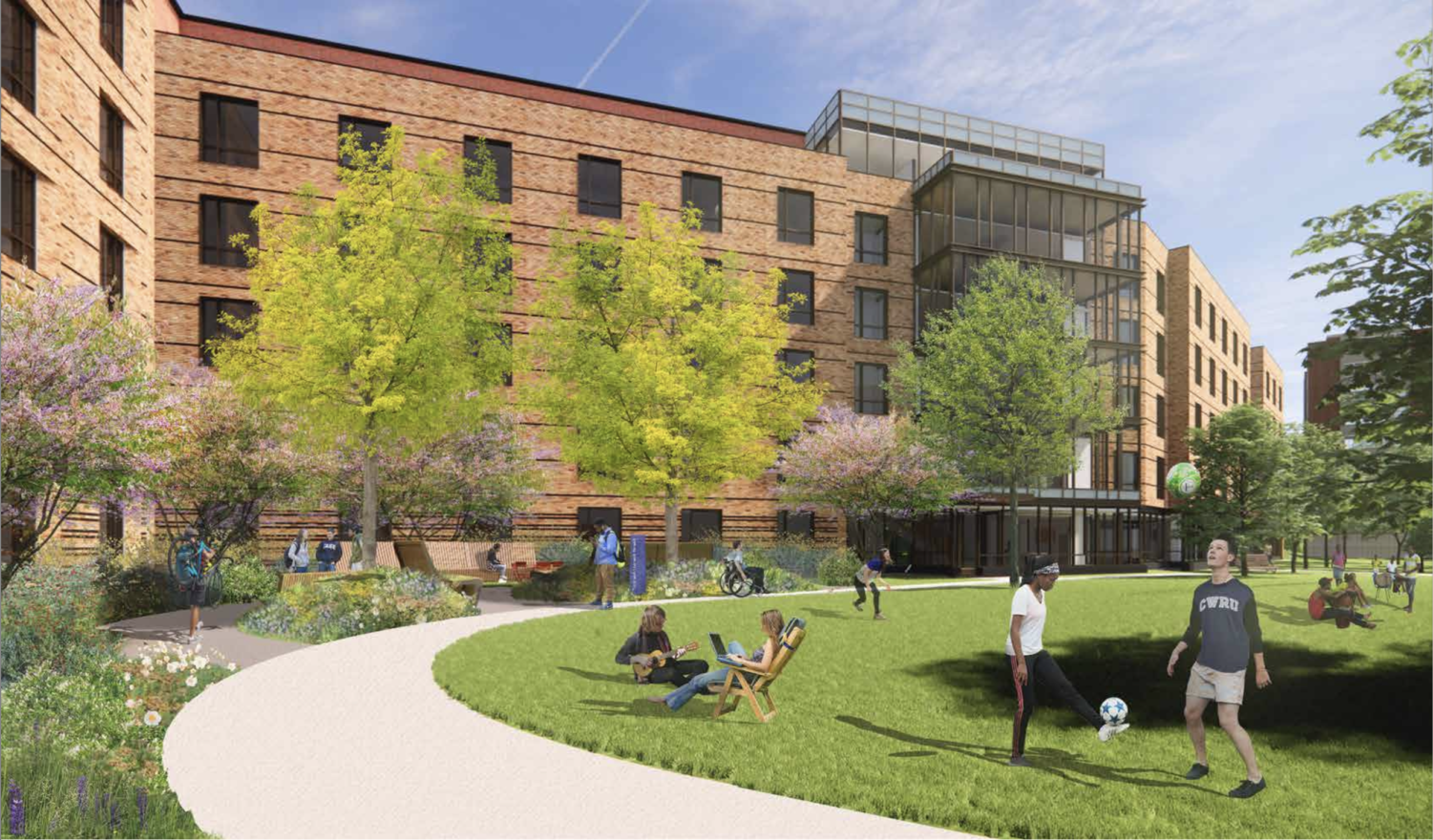 Part of the plans for the SRV expansion also include a large green space in between the two buildings, which will include a "gathering grove" that includes spaces for hammocks and will be lit by string lights, a "reading and wellness garden" that will be fitted with aesthetically pleasing benches and flowers to allow studying and relaxation outdoors, and a large "play lawn" for outdoor recreation. The university plans to plant a variety of canopy trees, evergreens, understory trees, shrubs and groundcovers all around the area to create a verdant space.
Panichi confirmed that Campus Planning was collaborating with the Office of Energy and Sustainability, extending to the architecture of the dorms themselves to the materials used. The buildings will be Leadership in Energy and Environmental Design (LEED) Silver certified at a minimum, with the possibility of being certified Gold as well. The LEED certification is attained when a construction project sufficiently addresses concerns surrounding carbon, energy, water, waste, transportation, materials, health and indoor environmental quality. Panichi also noted that the university's experiences during the COVID-19 pandemic have allowed them to consider the role of fresh air more in designing buildings, and that they would also be installing bipolar ionization units that kill bacteria.
Though Panichi theorized that the new residence halls could be more expensive than current offerings and that this range of prices would allow students to pick from the various residence halls in SRV according to their budget, he could not say for certain how the process would change. According to the university, housing fees and the selection process are still in discussion.
These new buildings remain years away from completion but will be an important stepping stone for CWRU as the university continues to expand and modernize.