Hillel hopes new building will draw community
When they began planning for a new building, Hillel asked, "What would benefit the university community as a whole?" According to Executive Director Jared Isaacson, the answer was a space that would be open to the campus community, with classrooms, a restaurant and spaces for larger meetings and events.
On Jan. 4, Hillel moved into this new space, which then opened for classes and visitors on the first day of the spring semester.
Hillel decided on a building on Euclid Ave. that had sat vacant for about nine years and kept most of the original structure, including its large walls of windows. The groundbreaking for renovations occurred in November. By the time they were completed, the raised walkway near the building had been replaced with a ground-level sidewalk, the front of the building had been expanded so it now sits just a few feet back from Euclid and the inside had been updated considerably.
Before beginning work on this new building, Hillel had to raise at least 50 percent of the cost to do so. Their donations, gathered with help from the University Development Office, came primarily from donors in the local Jewish community.
Though Hillel is operating out of the new building, Isaacson says that they are still working out "the kinks of the building." These include an underactive thermostat and a lack of blinds that gives every pedestrian who wanders by a great view of Isaacson's office.
Before moving into this new building, Hillel had occupied its old building, a cramped space with few windows, since the 1970s. For four years, Hillel carried out feasibility studies to determine whether they should renovate or find a new space. Two years ago, they decided on the building on Euclid.
According to Isaacson, the difference has been "night and day."
Hannah Pomerantz, first-year representative on the Hillel Undergraduate Leadership Council (HULC), joined Hillel during Orientation Week at the beginning of this year, and to her the old building felt familiar. Its architecture resembled synagogues that she had spent time in in the past, so the new building doesn't feel quite as "homey." However that doesn't mean that she doesn't like the new building.
"It's definitely new and clean, and there's something exciting about that," said Pomerantz.
Noa Hockstein, second-year student and secretary of HULC, had also spent time in the old building for HULC meetings, Shabbat dinners every Friday and sometimes just to study.
"I love the change," said Hockstein. "The old building was very dated and is definitely in need of some changes and updates. The new building is so new and everything is so nice in there. It's an awesome space that I hope now all students will come and utilize."
Hockstein also has a class in one of the three classrooms on the ground floor of the building.
"The [class]room itself has a good atmosphere," said Hockstein. "The room has a lot of windows, natural light and a lot of space which is really nice."
In addition to classrooms, students have also already started to use the kosher restaurant in the new building, Kantina. According to owner Seth Bromberg, the restaurant served 80 students at its first Shabbat dinner, and it will continue to serve that meal every Friday.
"I go to Shabbat dinner every week, as well, and the new restaurant, Kantina, serves awesome food for dinner," said Hockstein.
Bromberg feels that this new restaurant is filling an important opening.
"There are very limited kosher food options in Cleveland, and even less in University Circle," said Bromberg.
Another unique attribute of the new restaurant: Despite its location on CWRU's Mather Quad, the restaurant is exempt from CWRU's exclusive contract with Pepsi Co., so it instead serves Coca Cola products.
The restaurant currently has limited hours as it gradually opens; it will be open Monday through Thursday from 11 a.m. to 2 p.m. and Fridays from 11 a.m. to 2 p.m., plus Shabbat.
Despite the spaces and resources available to all students and community members, Pomerantz feels that the building is going to be under-utilized by non-Jewish students who don't feel as comfortable there. However she hopes that the classes being held there will help to create more of a dialogue between Hillel and other students on campus.
Isaacson echoes this desire to include the greater community, as that was one of the aims of the new building.
"This project was a true partnership between the Hillel organization and the university, and to some extent also University Circle itself—the community—in making this a reality," said Isaacson. "We are just very excited to have what really is a welcoming, open space—for our students and for our student programs to take place."
Moving forward, Hillel's aims for this new building are to increase the campus Jewish community's visibility, create a more hospitable, welcoming environment, contribute a space for campus use and to be a place for students to gather.
Leave a Comment
About the Contributor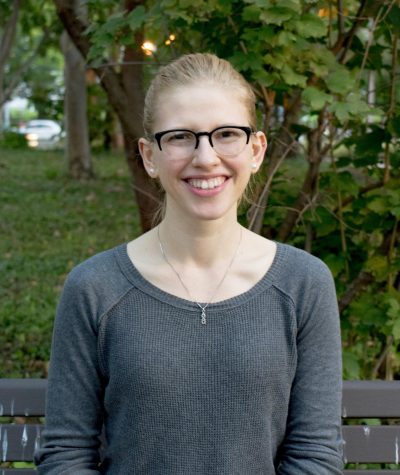 Aquene Kimmel, Director of Web and Multimedia
Aquene Kimmel, Director of Web and Multimedia, is a fourth-year English and French major. She is also Editor-in-Chief of The Athenian and a member of Pi...