New Politics and Andrew McMahon in the Wilderness begin high-energy tour
Just a couple of weeks into the Wilderness Politics tour, New Politics drummer Louis Vecchio is approaching music the same way he always has: with as much energy as possible.
"We're going out every night on stage, sweating, laughing, smiling, and I hope the crowd's doing the same," said Vecchio.
New Politics, a pop-punk group originally from Copenhagen, has teamed up with Andrew McMahon in the Wilderness, The Griswolds and LOLO for a tour around the U.S. So far, they've stopped by seven cities, but they've only just begun the tour.
This follows the August release of New Politics' latest album, "Vikings," which has had positive attention and already produced a few hits, most notably "West End Kids" and "Everywhere I Go (Kings and Queens)." "The response has been great so far," said Vecchio. "We couldn't ask for a better support system than what we have going on, between our fans, our label, our management. I can't wait to really dig into the tour."
In a few more weeks, the four bands will arrive at the House of Blues Cleveland. Tickets have been selling quickly, with almost all balcony seats sold out as of press time.
The last time New Politics were in town, they performed for a jam-packed audience in the Rock and Roll Hall of Fame. Singer David Boyd leaped off of the drum set and wooed much of the audience with his punky bad boy attitude.
"Even if we're sick or hurt, we're still going. That's a natural thing with us, since I've joined the band, even before I joined the band," said Vecchio. "Thank God no one's gotten hurt. It's such a natural thing that flows through us and comes out of us when we hit the stage."
He continued: "There are so many people who wish they could go onstage and do what we do. There's no reason not to be happy about it, go crazy. It reflects a lot in our recordings, we're always 100 percent," he said.
In Vecchio's opinion, New Politics gets most of its drive from its fans, and this is clear from their social media accounts, especially Twitter. Members of New Politics can be seen regularly responding to fans' comments and tweets, posting selfies of themselves in front of the crowd from many of their shows.
Vecchio has seen a lot of great tributes from fans, but the most touching moments are usually with fan tattoos. "I have tattoos, and I know it's not fun to get tattoos," he said. "To go and get your favorite band tattooed on you is insane, or a lyric that means so much to you; that is the most flattering thing in the world. Whenever you see that, it's pretty mind blowing."
New Politics' fanbase is supportive, but the band has also had a positive relationship with the other musicians on tour. Though their tour has only just started, Vecchio's favorite moment was on Oct. 20 at the House of Blues San Diego. McMahon asked New Politics to join him onstage and sing "La La Lie."
"I had a little bit of a fanboy moment myself," said Vecchio. "The vibes are so cool, it's so relaxed. It's great. I'm sure there are going to be a lot more moments."
Tickets for the upcoming show are available through the House of Blues website.
Band: New Politics / Andrew McMahon in the Wilderness / The Griswolds / LOLO
Venue: House of Blues Cleveland
Date: Nov. 14, 2015
Price: $25-35 (as of press time)
About the Contributor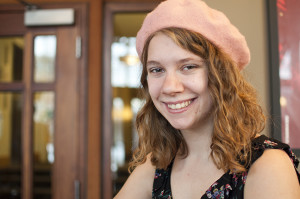 Anne Nickoloff, Director of Print
Anne Nickoloff, the Director of Print for The Observer, is a senior at Case Western. She hopes to one day be a music journalist, and has spent much of...