A little bit of everything in one band
New Politics rocked the Rock Hall
New Politics singer David Boyd must have thought the Rock and Roll Hall of Fame's stage was too small on July 21. Stepping onto the drum set, break dancing and flipping around the limited space, there was little room to contain him at the band's actual stage. The crowd swarmed to hold his feet up when he stepped out onto a sea of hands, serenading everyone for one hit.
With tickets priced at only $5.50, it was no shock that the show brought a huge crowd to the indoor venue this past Tuesday.
The alternative punk band played a range of songs at their crowded show. "Harlem" had fans singing along, but their much simpler-versed chorus of song "Yeah, Yeah, Yeah" had many more audience members catching onto the lyrics.
Without much warning, New Politics launched into a cover of Beastie Boys' "Sabotage," but it didn't even sound like them. At a few points, I thought I heard a recorded bass part; this makes sense, since guitarist Søren Hansen plays both the bass and guitar in the band, and no one can really play both at the same time. Even then, there was no New Politics zest in the cover… but the crowd still ate it up.
"Cleveland… Are you always this full of energy?" said Boyd, seemingly amazed, after a couple of songs.
New Politics was still full of that sense of newly-made band amazement throughout the entire show. At one point, Boyd gave an inspired speech about believing in yourself and following your dreams. Yes, it was cheesy, but cheesy in a good way.
According to him, New Politics was a testament to "anything is possible." Boyd revealed to the audience that their drummer, Louis Vecchio, had previously worked at Chili's, and Boyd himself was a janitor before creating New Politics.
It was a strange dynamic, however. New Politics was half dreamy boy band, and half punk. They had girls in the audience wooed at some points, and pumping fists at others.
Their blend of mostly family-friendly punk denied what punk, as a genre, is all about. No, they weren't fully punk… and they weren't pop, despite their at times boy-band-ish flair. They were a little bit of everything, blended into a band.
They were New Politics.
Concert: New Politics
Venue: Rock and Roll Hall of Fame
Date: July 21, 2015
Rating: 3/5
About the Contributor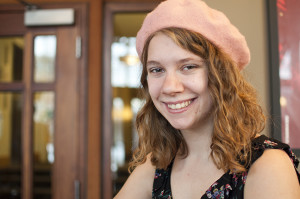 Anne Nickoloff, Director of Print
Anne Nickoloff, the Director of Print for The Observer, is a senior at Case Western. She hopes to one day be a music journalist, and has spent much of...