New student group aims to provide thought provoking forum for students
A new student organization is looking to create a conference where speakers from the student population, faculty and the community can express their ideas on research or other topics that they are passionate about. The group, called Society, Politics, Arts, Research, and Community (SPARC) Conversations, is headed by Elle Marcus. It uses popular conferences such as TED and A Better World by Design as a model for the event.
Listening to her friends' varied opinions on social issues, along with the wealth of perspectives that Humans of New York provided, inspired Marcus to bring this event to Case Western Reserve University. She believes that a conference like this would provide students with an opportunity to share their opinions and practice their public speaking skills while participating in a unique intellectual conference.
Although the group is still in its formative days, its founding members are working hard to make the conference a reality. At their kickoff meeting last Friday, the group laid the groundwork for how the group would proceed as an organization. Although it is not recognized by USG yet, the group is looking into recognition as one of many options for procuring funding for the conference.
The group's plans for the conference itself also began to take shape at the first meeting. The members decided on a fall conference, possibly timed in conjunction with Homecoming Weekend to attract a larger number of alumni.
To provide ample opportunities for students to share their ideas, the group considered attempting to keep about a one to one ratio of student speakers to others. To maintain a high quality of speakers at the conference, the group considered screening potential presenters in order to assess their skills. For those who could use some improvement in their public speaking skills, the group is considering hosting training sessions leading up to the conference and possibly collaborating with other campus groups.
Marcus has a vision for this event, which she hopes will become an annual event at CWRU. When asked about where she sees the conference going in the future, she responded, "Hopefully this can become a popular event, so it can become an iconic event for Case."
Although she is looking at a one-day event for the first conference, Marcus envisions it eventually evolving into a weekend-long event.
Students looking to get involved with the group can email sparc@case.edu or find them on Facebook.
Update on March 3: The group's name, SPARC Conversations, and contact information were updated.
Leave a Comment
About the Writer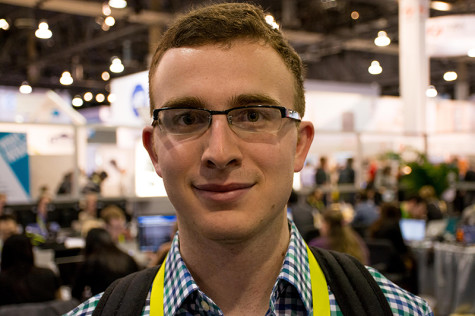 Joseph Satterfield, Web Editor
Joseph Satterfield is a senior majoring in Computer Science. Originating from Aliquippa, Pennsylvania, he was attracted to CWRU because of its excellent...