Years of work led up to new traffic lights
While walking between Northside and Southside, or between the Engineering Quad and Little Italy, many students cross at Adelbert Road and Circle Drive. Until recently, the three-way intersection made for unsure crossing, with students either rushing across or waiting as car after car coasted through the stop signs.
Now, traffic lights and walk signs regulate traffic and pedestrians as they pass through the intersection.
The idea of putting traffic lights at that intersection first came up a few years ago, when people brought it up to then-President of the Staff Advisory Council (SAC) Barb Juknialis.
"It is my understanding that the safety of that intersection has been an issue for some time," said Juknialis. "I knew from personal experience and reports from SAC members that something needed to be done."
After the issue was brought to her attention, Juknialis spoke with Richard Jamieson, vice president for Campus Services. Jamieson agreed that the issue needed to be fixed, so he brought it to the City of Cleveland, with which Case Western Reserve University has worked to improve pedestrian safety in past.
And then he waited.
"[Richard] and I corresponded about this issue for a couple of years before he was able to convince the City of Cleveland to take action," said Juknialis. "I am pleased that SAC was able to contribute to this project and help ensure safe pedestrian crossing at that busy intersection."
Third-year student Erika Hripko crosses at that intersection frequently. Previously, she felt awkward having to wait and try to figure out when to cross. Since the new lights were put in, that has improved.
"Sometimes it takes a little longer to get across," said Hripko. "But so far it's been somewhat better, and I haven't been honked at yet which is a plus. Other than that, though, it hasn't changed a whole lot. But I was honestly glad when they put it in."
Jamieson, too, was happy that the traffic lights have finally been installed.
"Safety is the University's highest priority," said Jamieson. "Installation of this traffic signal will improve pedestrian safety for the many members of the University community and the public who use this intersection. This is the reason we sought to have the traffic light installed. We are grateful that the City of Cleveland agreed to do so."
Leave a Comment
About the Contributor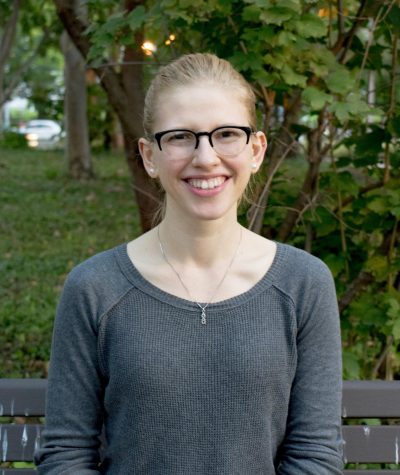 Aquene Kimmel, Director of Web and Multimedia
Aquene Kimmel, Director of Web and Multimedia, is a fourth-year English and French major. She is also Editor-in-Chief of The Athenian and a member of Pi...