Newly opened Physical Resource Center has free resources for CWRU community
With COVID-19 hitting the U.S., multiple marginalized groups are affected. The deep wounds forming from inequalities in the U.S. are now getting deeper. Recognizing such an urgency, students from Case Western Reserve University opened up the Physical Resource Center (PRC), a "free store" for students and staff in the CWRU community, with items such as clothes, cookwares and furniture available for free. 
Sharan Mehta, the chair of the PRC, shared his inspiration for opening the center: "The Physical Resource Center evolved from the 'stuff swap' project hosted by the Office of Energy and Sustainability. The office would host pop-up stores on campus where students could come in and trade items they didn't need for items that they did. It's a great way to eliminate excess waste that will be generated by our students. With COVID-19, the need for the PRC accelerated and now it serves both as a way to make our campus more sustainable while alleviating some of the student financial burdens."
A joint initiative by the Undergraduate Student Government, Undergraduate Diversity Collaborative, Student Activities & Leadership (SA&L) Office and the Office for Energy and Sustainability, not only are the resources from the center free for every student at CWRU, but the center also maintains a mission of sustainability as well. 
Mehta elaborates on the specific process in which the store maintains its mission of sustainability: "Students, faculty, staff and local community members can donate items they do not need that are in good condition, and this is then offered to undergraduates who do need those items. Through this process, we reduce the number of items wasted while helping our community little by little. PRC also works with other local non-profits to maintain our mission. By giving excess bed sheets, pillows and garments to the men's and women's shelters and recycling our electronic waste through a local org called RET3, we do our best to ensure that nothing goes to waste."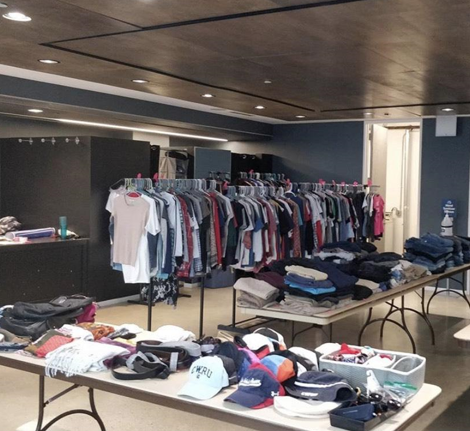 Mehta states that there are plenty of ways to get involved in the operation of the store: "the three most common ways are by donating, volunteering and serving on the steering committee. 
"For donations, anyone is welcome to donate new or gently used items by walking in during our open store hours." 
Anyone interested in volunteering long-term with the store is expected to serve every one or two weeks for the regularly scheduled shifts at the center, but there are also flexible volunteering opportunities for students looking to come in occasionally to help with specific tasks such as setting up and sorting. For remote students, the PRC also offers some online volunteering opportunities where students can help with data analysis and marketing for the center. 
With many uncertainties arising in this semester for every college student's life, not only can the PRC be a great and practical support for students by providing completely free and quality items, but it is also a great place for students looking to make a positive impact in the CWRU community. So, show your support, sign up for a student slot and collect some cool T-shirts, because at the same time, you can support the sustainability of our community as well!
The center is open to every student in the CWRU community for free, with no financial qualifications, Wednesdays and Saturdays, from 1 p.m. to 5 p.m. In order to access the resources and services available, students must sign up for a slot on the PRC CampusGroups website under the "Events" tab. Each slot has a time limit of 30 minutes, and visitors can come more than once. The store is located at 11440 Uptown Ave., Cleveland, OH 44106 (between Mitchell's and ABC Tavern). Students visiting the store are also required to follow social distancing guidelines.