Niall Horan's debut album reaches No. 1
With his debut single album, "Flicker," Niall Horan has become the third former One Direction member to have a No. 1 album in America, a feat accomplished only by another British invader: The Beatles. Horan was one of the more subdued members of One Direction, and "Flicker" feels incredibly faithful to his personality and style. It's mellow, low-key and musically beautiful.
Despite Horan claiming to have been inspired by Fleetwood Mac and The Eagles, "Flicker" actually sounds somehow both modern and folky―a similar vibe to John Mayer, James Arthur or Ed Sheeran. But within this sound there is room for variety, and "Flicker" explores that range.
The album's hit single "Slow Hands" is funky and full of the blues, making it the heaviest beat you'll hear on the album. Then there's the piano ballad "Too Much To Ask," as well as the folk/pop country anthem "Fire Away."
In fact, there's a twang heard throughout much of "Flicker"―Horan even does a duet with country singer Maren Morris on "Seeing Blind." However, the track with the most country influence is "You and Me." Horan could have a country music career if he keeps this up.
Horan's mellow and raw voice carries us through the whole album. Unlike Harry Styles and Zayn, his former bandmates, he seems not to lose his accent when he sings. The Irish cadence just makes the whole sound feel more authentic and raw: It's perfect for this type of album.
Unfortunately, there aren't any other songs that rival "Slow Hands," which I completely love (and haven't gotten tired of yet, despite the radio playing it on repeat). Another problem is that while this may sound like a singer-songwriter album, the lyrics are not anything spectacular. The tracks are all standard songs about love and breakups. They're not enough to really make this album a pure work of art, but at the same time they're not bad enough to discredit the album's merits either.
Horan has found his sound and excelled in it, and I think that is the reason it reached number one on the Billboard Top 100. The album feels very "coffee house", perfect for studying and fall weather. It's not high-energy, and I can see that some people might have expected something more and have been disappointed. But to give this album its due, we should accept it as it is and not compare it to the works of One Direction or any of the other former band members. Horan's sound is a warm glow in the dark, not a raging fire.
Album: "Flicker"
Artist: Nial Horan
Release: Oct. 20, 2017
Raiting: 3.5/5 stars
Leave a Comment
About the Writer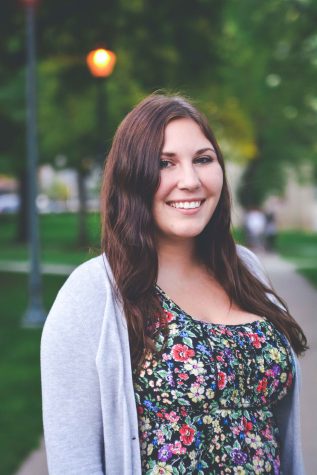 Alex Clarke, Arts & Entertainment Editor
Alex Clarke is a senior with majors in english and psychology and a minor in marketing. She also writes for Trill Mag, wrote for McClatchy newspapers for...