Nicholas Bertrand: For the love of the game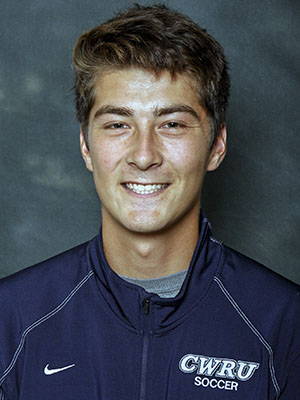 Nicholas Bertrand is a third-year defenseman for the CWRU men's soccer team. While he grew up playing many different sports, his love for soccer persisted. Throughout his extensive career, two games standout in particular: one good, one bad. As a biomedical engineering major, he hopes to use his degree to work with prosthetics in the future.  
What is your favorite part of being on the soccer team? Why?
Just being a member of the team is an amazing experience. You build some of the closest friendships of your life being a part of a team and everyone gets along really well. Then, there is also the added bonus of being able to continue to play the sport I love.
Where did you get your passion for soccer? Any good stories?
I first started playing soccer when I was about four. Growing up I played just about every sport you could think of, but soccer was the one that I always stuck with no matter what. I would change up what I did in the winter and spring but the fall was dedicated to soccer. I think part of it was that I had a lot of success when it came to soccer, and let's be honest—who doesn't love winning? Also, I think the team aspect came into it as well. I did a few individual sports, but it was always the most fun when being on a team and having to work together to accomplish a goal.
Do you have any games that you remember being particularly special? Why?
Two games that I played occasionally keep me up at night but for very different reasons. The first was when I was playing U14 (under 14) for my club team. It was in the state cup championship game, and we went to penalty kicks. I played goalie at the time, so there was a lot of pressure on me. We went through all 10 field players' shots without a winner, and it came down to the goalies, and I hit the crossbar to lose. The other is a much happier memory. It was my junior year of high school, and we were playing in the semifinal game of the New England Championships. The game was tied 1-1 at the end of regulation, and we went to overtime. With about two minutes left in overtime, we scored the golden goal winner, and everyone went nuts. Everyone stormed the field, including the fans, and there was an enormous celebration by one of the corner flags.
Aside from soccer, what else are you involved in on campus? Can you explain what you do?
I am a member of both Sigma Alpha Epsilon and Theta Tau Engineering Fraternity.
Why are you majoring in biomedical engineering? What interests you about it?
Through all of high school I was constantly being tortured by all the English and language classes I had to take. It was very clear that math and science suited me much more. I chose biomedical engineering because of the mix of subject matter that I get to learn. With my biomechanical track, I get to take a good amount of mechanical engineering classes along with the [biomedical engineering] courses.
What do you hope to accomplish with the degree?
I am really interested in modern day prosthetics and ideally would like to do some work with that in the future.
What are your favorite free time activities? Why?
Eating and Netflix. Pretty self-explanatory.
What is your favorite quote or what inspires you?  
One quote that I always have in the back of my mind is, "People go, but how they left always stays."