Night Market Cleveland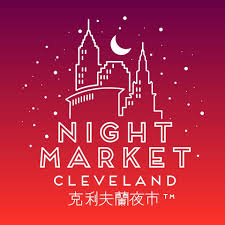 Night Market Cleveland ended their 2019 season with a bustling event on Friday, Sep. 27. Each Night Market Cleveland is a pan-Asian fusion event that features live performances, food trucks alongside a diverse street food market, retail booths of hand-made and local artisans/businesses, and plenty of community members in attendance. 
The live performances kicked off at 5 p.m. with a performance by Cleveland Chinese Music Ensemble, Coiling Dragon Chinese Kung Fu Studio and the LingYun Rising Star Gymnastics Dance School. 
Serving as part of the kickoff to the Chinese Consolidated Benevolent Association's year-long celebration of the 150th anniversary of Cleveland's Chinese community, this performance that recreated the early Cantonese opera sounds of Cleveland's earliest Chinese settlers with several century-old musical instruments. 
Continuing until 11 p.m., there were performances by Indian dance teams from Case Western Reserve University [Case CobRaas and Case Kismat] and then Pacific Paradise Entertainment, incorporating both traditional hula dancing and fire throwing. 
Featured DJs included DJ Evie of "Mic Drop" on WRUW-FM and Marcus Alan Ward. Animesha Krishnamurthy, a second-year student at CWRU, stated that the event was a unique opportunity to see art and food from a number of different cultures all presented in one place."
Night Market Cleveland is organized by Night Market Cleveland, Inc., a 501(c)3 nonprofit and public charity.  Night Market Cleveland comprises an event series to effectively support and showcase unique cultures present throughout Cleveland communities. Each Night Market Cleveland event brings together varied performances, food booths, and retailers so that each event is a different experience with exposure to different cultural focuses. 
To those who are learning about new cultures and to those who have the opportunity to educate about their own culture, such an event series helps to bring together members of the Cleveland community in an environment of vibrant interaction and expansion of knowledge. 
As an organization, NMC brands itself as an "an inclusive platform focusing on the equitable resurgence of Cleveland's Asiatown and the surrounding districts." Keep an eye out for announcements concerning dates for the 2020 NMC event series in the coming months!