No Spring Break plans? Justin Nozuka stops in Cleveland
Justin Nozuka has been in the music industry for over a decade now. After releasing his debut album, "Holly," in 2008, Nozuka has released two other albums, "You I Wind Land and Sea" in 2010 and "Ulysses" in 2014. Now, he's touring and releasing his fourth album in three installments. The first installment, an EP titled "High Tide" came out last September, and the second EP, "Low Tide," was released on Feb. 16. That tour is scheduled to hit Cleveland March 11, when both Nozuka and Good Old War will be performing at the House of Blues.
We had the chance to catch Nozuka on the phone to talk to him about the album, his creative process and the tour.
Q: "High Tide" was part one, and "Low Tide" is supposed to be part two. How is part three coming along?
A: Part three is good. The whole album is going to be finished at part three… Part three will be a larger group of songs that will be mixed in with parts one and two.
Q: You didn't really release anything for a couple years before "High Tide" came out. Was that because you were taking a break? Or did you spend that time writing music?
A: I pretty much [went] right from touring to working on the album, so I was doing writing and finding the right partnership to record with. That took about two years. I took quite a bit a time off between my second and third albums, so I'm pretty keen on being busy now.
Q: You're spending this month in the states before going on tour in Europe next month. Are you excited about that?
A: Yeah, very much so. I've been having a really good time here, and the shows have been really nice. It's just nice to keep going. I'm going to a few places in Europe I've never been before, like the Scandinavian countries and Italy, so I'm looking forward to it.
Q: How does this new album compare to the last one?
A: There's definitely a difference between the last album and this in terms of the vibe. The last album was very quiet and slow. Introverted a little bit. This next album is a lot more upbeat.
Q: Your songs address a lot of deep topics, and you tell a lot of stories. Is that connected to your songwriting process? Or does it just have more to do with the kind of songs you want to sing?
A: I know when I work on a record that I'm going to be touring that record and living in that record for a couple years at least, maybe further. So I kind of think a little bit about where I want to be at for the next couple years…The new music that I've been putting out has kind of been inspiring [to me]– to produce this specific kind of music feels right for me right now.
Q: You've been in this industry for over ten years. How has your creative process changed?
A: It feels full circle. I definitely have a lot more experience and understand the lay of the land a little bit more. But it's really the same process. I put a lot of energy into making a record that I feel proud of and is strong enough. The one difference this time around is that way that music is consumed is much different. That's kind of changed the way that we're releasing music. So that is a difference. So our release strategy, in that case, fits well with that model.
But creatively, it's pretty much the same process. Sifting through and expressing these different emotions and trying to get to this zone where I feel super focused and can create something that resonates.
Artist: Justin Nozuka
Venue: The House of Blues
Time: 6:00 p.m.
Price: $20
Leave a Comment
About the Writer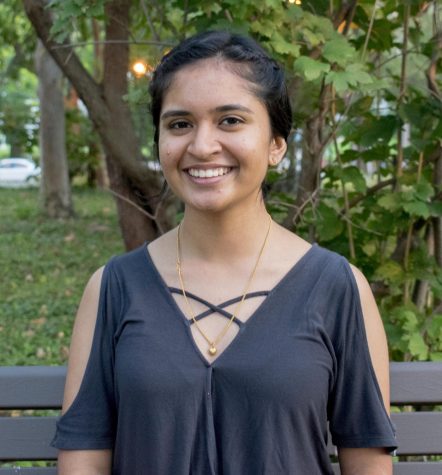 Smruthi Maganti, Arts and Entertainment Editor
Smruthi Maganti is a third-year student studying biology with a minor in public policy. After a year of copy editing, this is her first year as the A&E...