Noname's "Room 25" brings the best of old and new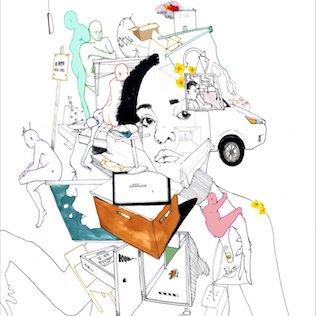 Noname has a question for you: "And y'all still thought a (explicitive) couldn't rap huh?"
In her first studio album "Room 25," Chicago rapper Noname establishes herself as a force to be reckoned with. "Room 25," which was released on Sept. 14, sees Noname pushing the creative boundaries of her content while retaining the playful rhythm-and-blues swing of her previous works.
One of the most impressive things about "Room 25" is that it was released on time. Noname is maybe the most prominent independent rapper not named Chance. That means she does not have a contract with any major music labels, and she only has to make music when she wants to, rather than when a contract says she has to. While this means her music is always her best work, it also means that she is not held to any deadlines or production schedules. Her debut mixtape, "Telefone," was in production for three years before it was released in 2016.
The focus of Noname's music changed massively from "Telefone" to "Room 25." While "Telefone" deals with mature issues like poverty, the primary focus of the work is on a youthful search for identity. Songs like "Diddy Bop" gave the mixtape a more nostalgic feel, reminiscing on summer days and old boyfriends.
"Room 25" comes from the perspective of a different woman, one that has grown as a person since her last release. The most obvious example of this is in the album's relentless raunchiness. Songs like "Self" and "Montego Bae" are littered with references to the artist's newfound sexual awareness.
While the lyrical content is new, the production and beats still bring the same bluesy magic to every track. Chicago-based artist Phoelix helped produce both "Telefone" and "Room 25." The work the two do together is unmistakable. Phoelix's beats are a smooth blend of R&B and jazz, a perfect old-school backing to Noname's sing-songy, slam-poetry inspired bars. The combination of old and new is sure to have your foot tapping and your thoughts expanding.
The album starts strong. The opening track, "Self," sets the stage for the whole show to come. In the song, Noname takes jabs at Kanye West, toxic masculinity and the Reagan administration. She explains that the album is for her: she does not care how it is received by fans and critics.
As the album continues, tracks like "Window" and "Don't Forget About Me" explore more introspective themes like the fallout of an ill-advised relationship and the personal doubts that come with growing fame, respectively.
Both producer and rapper show all that their unique combination has to offer in the song "Montego Bae." Phoelix's beat is a unique treat, one you're unlikely to find in any other rapper's music: a jazzy beat so loose and swinging that it's practically free-form. The song features Chicago R&B artist Ravyn Lenae, whose sliding, seductive singing evokes vintage travel ads promoting an exotic getaway in Jamaica. After the first verse, Noname lets loose with some of the most impressive verses of her career, definitively proving that she is capable of more than slow, soothing rhymes.
For a long time, Noname has been one of the most promising names in independent rap. With "Room 25," she continues to cement her legacy. With her sophomore production, Noname expands her musical repertoire well beyond her previous limits by exploring new personal experiences and demonstrating greater variety in the technique of her rapping and singing.
Noname's last hurdle to greatness is consistency. If she can continue to grow as an artist at the rate she has grown since "Telefone," and if she can continue to produce albums on a reliable schedule, there is no doubt that she will become one of the most renowned names in rap before her career is over. "Room 25" is a step towards that reality.
5 stars out of 5
Artist: Noname
Album: Room 25
Release Date: Sept. 14, 2018